EXCLUSIVE: Uh-Oh We Ruined Kim Kardashian's $1 Million Birthday Surprise!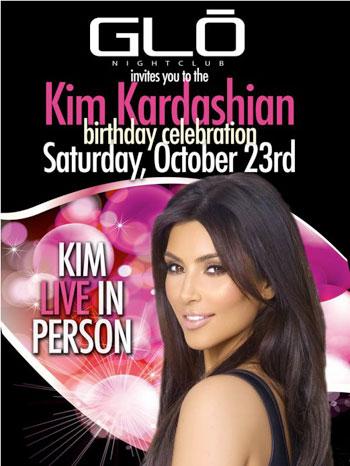 Keeping Up With The Kardashians star Kim Kardashian was going to be presented a birthday cake encrusted with more than $1 million worth of diamonds at a 30th birthday party Saturday at Glo Nightclub in Westbury, New York.
The only problem is the cake was supposed to be a surprise and when RadarOnline.com broke the news early Thursday EVERYONE was surprised – including Kim.
But she didn't seem too happy about the surprise and went on her Web site and even denied there was a birthday party planned.
Article continues below advertisement
Sorry for ruining your surprise Kim, but there's no denying any of it – we've got the proof!
Click here to see the ad for Kim's birthday party that Glo, a New York club, has had on its website and facebook page for almost two weeks. It says: "Glo invites you to the Kim Kardashian birthday celebration Saturday, October 23."
And while this was a paid appearance for the reality TV star she claimed to know nothing about it and wrote on her website: "But there are some things I wanted to clear up today. I'm seeing some ridiculous stories today about a million-dollar birthday cake being made for my "birthday party."
Article continues below advertisement
As for the million-dollar diamond-encrusted cake? Well that was supposed to be a surprise and apparently RadarOnline.com reported before anyone told you! The proof? Read the press release for the event here.
Meanwhile, Kim hasn't reacted well to the expensive cake surpise. She wrote "First of all, this is the first I've heard about this, and I would never allow anyone to spend that much money on a cake "Making a million dollar birthday cake is just ridiculous! I'd rather they give me a cupcake and donate the rest of the money to the homeless!"
RadarOnline.com spoke exclusively to Danielle Orsino, who handles public relations for GLO, and she said that a media outlet "called Kim and said 'you're really spending a million dollars on a cake?
"The restaurateur and jeweler wanted to break the record for the most expensive cake and they wanted to surprise Kim
"They've been working so hard on it and still want to present it to the public, of course they won't force her to accept it, it was just meant to be a fun surprise.
Article continues below advertisement
"The jeweler is going to encrust the cake with loose diamonds worth over a million dollars," Orsino told RadarOnline.com.
"Their goal is to break the record for the most expensive cake ever made which was 1.65 million dollars."
Kim claims that after today she will no longer be celebrating her birthday but that will be news to her fans who had plans to visit her at GLO this Saturday October 23rd for her Birthday Bash.
"I've already had my birthday club celebrations at Tao in Vegas and NYC and there are NO other birthday parties this weekend. Tonight I'll be having a private celebration with my friends and family, and then the birthday celebrations will be over. I'm sorry if you guys have been misled by anyone claiming they are hosting my official birthday party. That's just not true."
RELATED STORIES:
EXCLUSIVE: Kim Kardashian's Diamond-Filled 30th Birthday Surprise