Exclusive
EXCLUSIVE: The Story Behind Katy Perry's Engagement Ring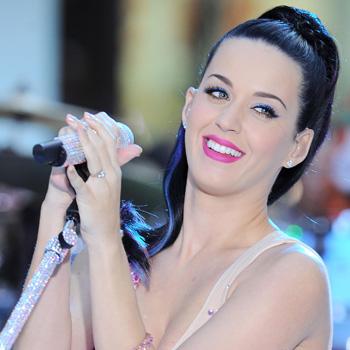 Even though Katy Perry will add to her hardware this weekend when she ties the knot with Russell Brand in a lavish Indian ceremony, RadarOnline.com has the exclusive scoop on her unique engagement ring from the designer himself.
Based in New Delhi, Hanut Singh is one of the most sought after young contemporary jewelry designers in India and helped Russell find the perfect gem for his bride-to-be.
"The whole ring thing happened many months ago, when Russell was in Delhi on his way to Jaipur and I was referred to him through mutual friends," Singh told RadarOnine.com. "I don't necessarily do engagement rings, unless commissioned, and this came as a request, and there was urgency to it."
Article continues below advertisement
Singh said when he met Russell to discuss the details of the ring's design he first showed the comedian a treasured part of Indian history.
"I showed him a design and my favorite stone -- the Golconda diamond -- the most magical of Indian diamonds from many hundred years ago when the Golconda mines were flourishing," Singh said.
According to Indian history, mining stopped centuries ago and the stones are highly covetable.
"And in a matter of minutes choices were made," Singh said. "He Russell requested privacy, and I was happy to oblige. I understand how some things must remain sacred and special, especially in momentous times like a wedding.
Although Singh won't be attending the week-long nuptial celebration (he's in New York for an exhibition of his work) he had only well wishes for the happy couple. "Russell is extremely charming and a lover of our country. Good wishes to them both."
Article continues below advertisement
The South Asian country holds a special place in their hearts. They're going back to the place where their relationship was sealed with a ring. The "I Kissed A Girl" singer and "Forgetting Sarah Marshall" star have been dating since September 2009, with Russell proposing on New Year's day 2010 while on holiday in Jaipur, India.
And the eccentric couple is taking the Indian wedding traditions very seriously.
Katy was spotted sporting an Indian bridal nose ring also known as a 'nath,' which brides wear on the wedding day, with the groom removing the jewelry on the wedding night.
Also in keeping with ceremonial culture, Russell had his hands painted with henna.
Traditionally at weddings in India, both the bride and groom's hands are painted with henna.
Interesting fun fact: the groom's initials are hidden in the patterns. The groom must search for the initials on the wedding night, and if he can't find his initials, he is expected to give a gift to his new bride.