EXCLUSIVE PHOTOS: Teen Mom Star Posed With Ex-Fiance Same Day MTV Aired Their Violent Fight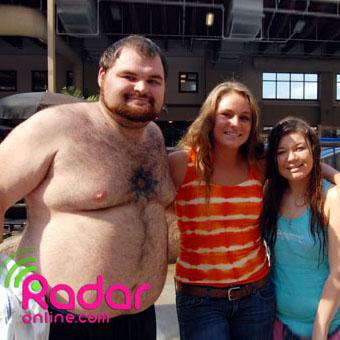 Teen Mom star Amber Portwood and her ex-fiance Gary Shirley are back together after their violent fight which led to a police investigation into the couple's relationship, RadarOnline.com can reveal.
And we have the exclusive pictures that show the volatile pair have healed the rift that also caught the attention of the Department Of Child Protective Services in Indiana too.
RadarOnline.com learned that an investigation was launched after the 20-year-old mother was shown on the popular MTV show hitting and kicking Shirley during an argument.
Article continues below advertisement
Our photographs show them in better spirits as they frolicked at The Wilderness At The Smokies water park in Sevierville, Tennessee, on Tuesday.
Ironically, the images were taken only hours before the actual fight video aired on MTV on Tuesday.
An eyewitness told RadarOnline.com: "They were behaving as if nothing had happened as MTV shot scenes of them having fun together.
"I though it was strange because here Amber was with the same guy she had gotten into an argument with and had hit and kicked too.
"It did not look like there were any bad feelings between them and they were acting like any other really happy couple on vacation.
"They were interacting with their young daughter Leah without any problems and the whole family seemed to be having fun."
Following their fight on the show, Anderson Public Information Officer Mitch Carroll told RadarOnline.com: "We were made aware of the domestic abuse following the episode that aired on MTV.
Article continues below advertisement
"Based on that there was a case drafted and a detective was assigned. The Department of Child Protective Services in Indiana notified us that they had been aware of the incident as well."
Ironically, the altercation between Portwood and Shirley ensued after he accused her of being a bad mom and threatened to report her to Child Protective Services.
"Once the detective reviews the initial case report... there will need to be interviews conducted with Amber and Gary," Carroll said.
"Anytime you have photographic or video evidence it helps."
A review of the video footage shows Portwood slapping and punching Shirley at least seven times.
Shirley does not respond physically to Portwood but instead just asks her, "Are you done?"
Viewers of the television show were shocked not just by the fight between Portwood and Shirley, but that their young daughter Leah was standing at their feet while they argued.
Article continues below advertisement
"Indiana's confidentiality law is very stringent and I'm not able to make any comment as to whether an investigation has been launched," Ann Houseworth of the Indiana Child Protective Services told RadarOnline.com.
"In the event that a call was made about the incident, we'd be required to give a copy of what we find to a prosecutor who will use that to decide whether charges will be filed."
Houseworth also noted that they wouldn't be able to utilize the reality-TV video footage in an investigation "unless we're called to the scene in fairly short order, as date and time can be changed on video."