Exclusive
EXCLUSIVE: J-WOWW's Surprising Yearbook Photos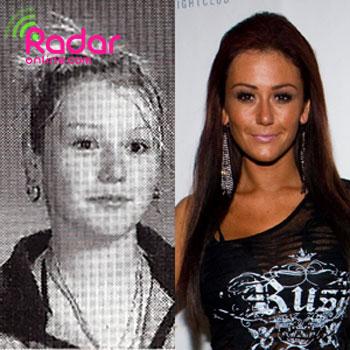 Long before she became one of the best known reality TV stars in America, Jenni Farley, otherwise known as Jersey Shore's J-WOWW, was a regular public school student who wasn't popular.
And while she certainly stands out from the crowd now, J-WOWW was just like millions of other American kids while in school, and RadarOnline.com has exclusive shots from her childhood yearbooks.
"She wasn't very popular," a classmate of hers told RadarOnline.com exclusively. She is now on one of the most popular television shows and is best friends with her pint-sized co-star Snooki.
Article continues below advertisement
"Jenni didn't have a boyfriend that I remember and she wasn't on any sports teams or in any clubs really," the classmate said about J-WOWW.
That's a big change from the person she is now: someone who isn't afraid to hook up with new guys, party all night long and fight when she wants to!
As a student at Genet Middle School in East Greenbush, New York, Jenni's 5th and 6th grade photos show an adorable, smiling brunette.
"She was quiet, but nice to other people. She had a close best friend and she mostly hung out with her," the classmate said.
While attending Columbia High School -- also in East Greenbush -- Jenni looked a lot more like her current self, sporting her Jersey Shore smirk. She even went blonde for a little while!
Though Farley now has her own sexy lingerie line called Filthy Couture, back then, she was much more low-key. "She always wore jeans and hoodies, she didn't really dress up," the classmate said.