Exclusive
EXCLUSIVE: Octo-Mom Caught In Lie - She Has 29 Embryos Left!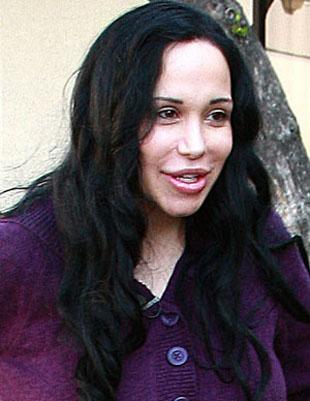 Article continues below advertisement
Nadya has repeatedly said that the reason she had the octuplets was because she wanted to use the last of her frozen embryos, which resulted in eight babies being born on January 26, 2009.
In a shocking testimony, it was revealed that Nadya did not use all of her frozen embryos and had fresh ones harvested for each in-vitro process.
The Medical Board of California has accused Dr. Michael Kamrava of "gross negligence," and Dr. Victor Y. Fujimoto, the expert witness for the board and the director of the University of California San Francisco's In Vitro Fertilization Program, testified Nadya never used frozen embryos and has 29 frozen embryos still available.
Dr. Kamrava made an "extreme departure from standard of care," by failing to refer Suleman to a mental health evaluation Dr. Fujimoto testified. He said Kamrava endangered her health and the long-term health of the babies.
EXCLUSIVE: Octo-Mom's Mom Says "My Daughter Is Insane"
"If they are saying he transferred too many, he didn't do anything wrong," Nadya previously told RadarOnline.com in an exclusive interview.
Article continues below advertisement
Dr. Fujimoto said transferring 12 embryos is unheard of. "I cannot imagine any colleague of mine transferring that many embryos," he said.
Deputy Attorney General Judith Alvarado said that Dr. Kamrava "knew that a 12-embryo transfer was unsafe," in her opening statement and the American Society for Reproductive Medicine national guidelines specify no more than two embryos are to be used for in vitro fertilization for healthy women under 35.
Dr. Kamrava has turned down repeated requests for an interview from RadarOnline.com, as have his attorneys. He appeared on Nightline in July and defended his treatment of Nadya, saying "it was done the right way."
The hearing is scheduled to last until October 29.
Nadya has been in significantly dire financial straights recently, almost losing her home to foreclosure with no income sources to pay her bills. RadarOnline.com exclusively reported that the family may have to go on welfare to continue to pay for food and basic living expenses.