Exclusive
EXCLUSIVE: Lindsay Lohan's Team Pushing To End Her Probation Early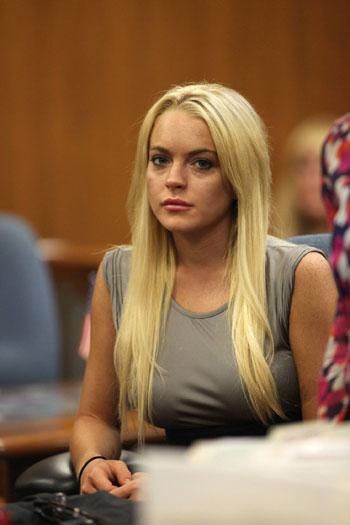 Lindsay Lohan's team is hoping for an early end to the actress' probation period, which currently runs through August 2011, in hopes of keeping her out of more legal trouble, RadarOnline.com has learned exclusively.
"The longer Lindsay stays on probation, the increased chances that she will get in trouble because of problems staying compliant with the terms of her probation. The only person that can modify terms of Lindsay's probation, or terminate it early, is Judge Elden Fox," a source with knowledge of the situation told RadarOnline.com exclusively.
Article continues below advertisement
Lindsay is currently undergoing treatment at Betty Ford in Palm Springs. As RadarOnline.com previously reported, she is being treated for an addiction to cocaine.
While the source would not elaborate on the particulars of the plan to get Lohan off of probation early, some reasons would include: "Lindsay remaining in rehab for a longer period of time" or "attending alcohol education classes."
The source stressed that Lohan is ready to do "anything that Judge Fox feels is necessary. It's his call, but there is a strong push being made for Lindsay's probation to terminate early."
Most of Lohan's legal woes have arisen because of issues with complying to the terms of her probation. "It's important to remember that Lindsay is on probation for misdemeanor charges relating to her two DUI's back in 2007," the insider added.
Lohan's next hearing in front of Judge Fox is on October 22. "Lindsay's attorney is going to admit to the violation of the dirty drug test. There isn't going to be a need for a formal probation violation hearing because Shawn Chapman Holley isn't going to fight the test results. It will be up to Judge Fox if Lindsay is required to attend the hearing, but if ordered to appear, she will be there," the source continued.
Article continues below advertisement
"Lindsay will still be in rehab at the time of the hearing, and since it's not going to be full blown hearing, she might not have to be there. Even if Lindsay is sentenced to 30 days in jail for the dirty test, she will get credit for one day served when Judge Fox remanded her to jail at the last hearing. With jail overcrowding, and the fact that Lindsay is a low level offender, she would likely be processed in and out of the system in less than four hours."