Exclusive
EXCLUSIVE: Jeremy London's Twin Brother Still Does 'Not Believe' His Story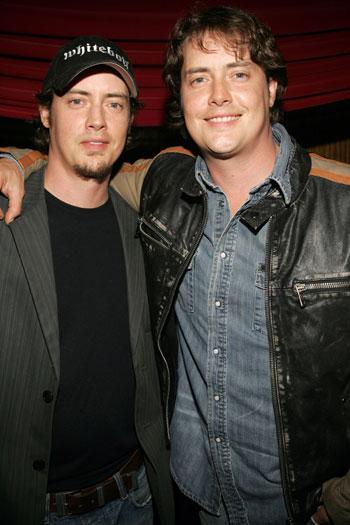 When actor Jeremy London took the stand in a Riverside County courtroom on Tuesday in a preliminary hearing, he gave a gripping testimony about the night he alleges that he was kidnapped at gun point and forced to take illegal drugs.
His description of a gun being held at his head as the kidnappers forced him to take two pills and smoking a drug "in a glass pipe" was corroborated by Detective Frank Guarino's testimony as RadarOnline.com reported.
Article continues below advertisement
However, Jeremy's twin brother Jason released an exclusive statement to RadarOnline.com and said that he does "not believe Jeremy's account of the events that happened that night."
"Our doubts have never been that something transpired that evening," Jason told RadarOnline.com.
"Our doubts have to do with WHY he was with those guys in the first place. We have doubts that he was sober, and doubts that he went with them in any way other than willingly to score drugs.
"At some point it is not out of the realm of possibility that something went south- drug deals often DO go south- but while we cannot say for sure what actually occurred since we were not there, we do not believe Jeremy's account of the events that happened that night.
"Unfortunately my brother's integrity is not on trial here. If it were, they would lock him up and throw away the key.
"What is on trial is the evening in question, and we hope that the truth will make its way out and that justice will be served. If someone is guilty of a crime, they should be punished. The family's concern is in regard to him lying about being sober when he clearly was not, and about not being honest about what transpired that night."
Article continues below advertisement
The gun charge against Brandon Adams was struck before the pre-trial hearing because there was a lack of evidence, the Riverside Court announced.
"Based on the evidence, as we reviewed it, it suggested that someone else named Little N actually had the gun," a spokesperson said.
"I was scared... I was starting to shake...It was getting bizarre," London testified of the ordeal.
Adams will go to trial for five felony charges, kidnapping, carjacking, Grand Theft, Robbery and Receiving Stolen Property.