Exclusive
EXCLUSIVE INTERVIEW: Teen Mom Amber Portwood & Fiance In Couples Counseling After Fight, Says Dad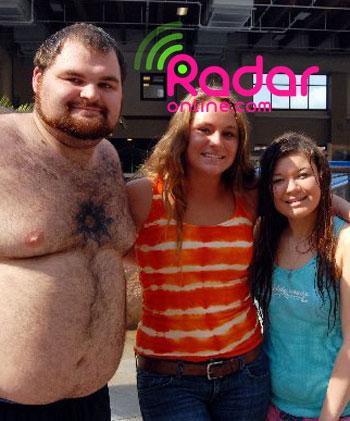 MTV Teen Mom star Amber Portwood is in couples counseling with her on-again, off-again fiancé Gary Shirley after the network aired a violent episode between the couple, RadarOnline.com has learned exclusively.
Amber's father Shawn opened up to RadarOnline.com in an exclusive interview to discuss what his daughter is doing to salvage her relationship with the father of her child.
Shawn revealed that Amber and Gary have been in counseling for months, and he hopes that they get married, despite a televised battle that has led to a criminal investigation.
Article continues below advertisement
"It's my understanding they're doing just fine," Shawn told RadarOnline.com. "They're going to couples counseling."
According to Shawn, the young couple has matured and made the decision on their own to get help. "I think it was their idea as a whole, them together, to be honest with you," he told RadarOnline.com.
RadarOnline.com was first to report last week that a police investigation was launched after the young mother was shown on the popular MTV show hitting and kicking Shirley during an argument.
But Shawn was quick to point out that Amber's seemingly aggressive behavior is uncharacteristic for the 20-year-old.
"I think we all go through our troubles and we all have our idiosyncrasies," he told RadarOnline.com. "It's just something that happens. It's not a normal thing... I don't believe it's a normal thing for Amber to do what she did. I haven't seen it hardly at all."
Shawn was shocked that the argument was aired. "It surprised me that it was even on TV and it was shown on TV. I don't even think it should've been shown on TV, to be honest with you," he said. "I think that MTV should've used better judgment, that's all I've got to say."
Article continues below advertisement
A review of the video footage showed Portwood slapping and punching Shirley at least seven times. Shirley does not respond physically to Portwood but instead just asks her, "Are you done?"
Both the Anderson Police Department and The Department of Child Protective Services in Indiana are looking into the incident, and even though Shawn knows the authorities are just doing their job, he is adamant that his granddaughter Leah is perfectly safe.
"The kids are doing good and Leah is well taken care of, and they're doing something about it and that's the thing," he told RadarOnline.com. "And the investigation... of course they have to check into it. It's they're job.
"But, I mean, like I said she's taken care of, they're good parents, they really are. I believe they are and I've been around them... they're getting along just fine and they're taking care of her and they're keeping in touch with me because I was concerned and I talked to her about it. But that's what the couple's counseling is all about, right?"
Article continues below advertisement
The altercation between Portwood and Shirley ensued after Shirley accused Amber of being a bad mom and threatened to report her to Child Protective Services.
"You know, this happened months ago... and things have changed a lot since then and they're doing something about it, especially after that," Shawn said. "But that was then, this is now. They've been doing this counseling for a little while now."
Shawn says that his daughter and her boyfriend have been working on their relationship issues for at least a few months now.
"From what I understand they've been at it a few months since that's been filmed, not aired... since that's been filmed back a few months ago -- maybe more -- they've been taking care of it, trying to stay together for the baby.
"He's Gary a good father; he loves that baby. They both do and they want the best for her. Like I said, everybody has their idiosyncrasies, they get over it, they're a young couple, they run into roadblocks and they get over it. Some people get help, some people don't. In this case they're getting help because they're smart kids."
Article continues below advertisement
Shawn even has bigger hopes for them in the future.
"I would hope that would happen and they go ahead and get married and all this works out," he said. "Not every relationship is made in heaven at first. You have to get over those mountains.
"I think one day they will get married, hopefully," he added. "They might work it out and it looks like they're sure trying to work it out."
RELATED STORIES:
EXCLUSIVE INTERVIEW: Teen Mom Maci Bookout Confesses, 'My Biggest Fear Is Losing My Son'