Exclusive
EXCLUSIVE INTERVIEW: 'Husband Couldn't Have Killed Her,' Says Step-Mom Of Murdered 'AGT' Victim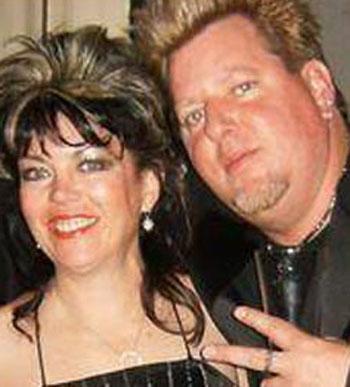 The step-mom of the murdered wife of an America's Got Talent contestant has revealed how a mysterious incident took place at a hotel ice machine in the middle of the night - just hours before the woman plunged to her death.
Speaking exclusively to RadarOnline.com, Elba Sutterlin said Laura Finley went to get ice from the hotel corridor around 3am. When she returned, the woman told husband Joe: "You won't believe what somebody tried to do to me when I went to get ice."
Article continues below advertisement
EXCLUSIVE INTERVIEW: Talent Contestant Reveals Wife Was Found Dead In Underwear
"Joe says he told Laura they would talk about it in the morning because he needed to get some sleep," Elba told RadarOnline.com, in an exclusive interview.
"When he woke up and Laura wasn't there, Joe thought she had gone to get him breakfast so he went to get in line thinking they would meet up."
Los Angeles Police Department Lt. Paul Vernon has confirmed cops plan to look at surveillance video from several locations throughout the hotel and hotel bars.
Laura, 48, was found dead in a stairwell at the Millennium Biltmore Hotel in downtown Los Angeles on October 23 at 8:25am PT.
She was there to support her husband who was auditioning at the hotel for America's Got Talent.
Even though Laura had been missing for several hours, he still chose to go through with his audition.
But Elba defended the decision, telling RadarOnline.com: "They thought this would be his one shot so when she didn't come back with breakfast, he knew he should just go get in line so he didn't miss his shot."
Article continues below advertisement
She said, "They both thought that this was would be his big break."
In a candid interview, Finley admitted the night before Laura died, he and his wife had taken ecstasy and were "partying" at a local nightspot.
"We were partying, we took ecstasy but it wasn't out of control," Finley told RadarOnline.com.
"She was really happy, I was happy, we were really excited about my music.
"We went down to a jazz bar in the hotel and then took a tour of the hotel because apparently it's a historic place.
"We were having a great time."
While the coroner has released Laura's body, police have confirmed Joe remains a person of interest.
However, Elba said he "couldn't have killed her" because he "adored her".
"Laura was the oldest of five kids, a loving daughter, she loved her children, she loved her husband, she loved her father - she was an all-around good person who would do anything for anybody," Elba said.