EXCLUSIVE INTERVIEW: Hollywood Producer Wants 'One Night' With Lindsay & Taylor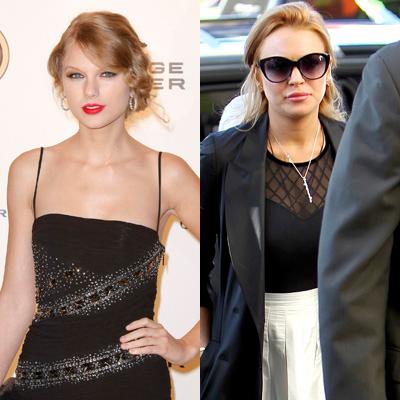 Hollywood producer Richard O'Sullivan wants to team-up Lindsay Lohan with Taylor Swift in his movie One Night With You, RadarOnline.com has exclusively learned.
Rumors had been circulating that the squeaky clean Swift was being lined-up to replace Lohan for the lead role of Nikki, but now O'Sullivan wants to cast both starlets providing Lindsay get through rehab and her next court appearance unscathed.
Article continues below advertisement
O'Sullivan told RadarOnline.com: "There's a chance that we'll be offering both Lindsay and Taylor a role in the film if everything sorts itself out.
"If Lindsay takes care of her issues and we're able to bond her then we would want her in the lead role of Nikki.
"And if Taylor isn't wrapped up with touring and recording then we'd likely offer her the major supporting role of Tanji – a young wannabe singer who works as a waitress at the bar in which the reality show is shot.
"So, there's an outside shot that both of them could wind-up in the film together."
With Lohan's legal woes and Swift's hectic schedule, it remains to be seen if the producer's hopes are just wishful thinking, but having them both in the same movie together would certainly be great box-office.
Lohan's career is effectively on hold until her next probation violation hearing on October 22 before Los Angeles Superior Court Judge Elden Fox. At that hearing, Fox is expected to sentence Lindsay for her parole volation and decide whether or not the 24-year-old will be allowed to travel outside the state of California for a period of time.
Article continues below advertisement
Plans for Lohan's next movie Inferno are already on ice because director Matthew Wilder is not sure if they will be able to shoot the movie about porn star Linda Lovelace in Louisiana as Judge Fox may prevent the actress from leaving the state.
In recent years, Lohan's personal life has been plagued with controversy and it may be affecting her movie career as well.
She has been missing from the big screen since 2007's psychological thriller I Know Who Killed Me, and her last hit movie was 2004's Mean Girls.
Meanwhile, Swift's career is thriving. The 20-year-old Grammy winner has sold over 13 million albums worldwide, and amassed an estimated fortune if $45 million.
In addition, she has already appeared in Hannah Montana: The Movie and in Valentine's Day alongside a whole slew of A-listers like Jennifer Aniston and Ben Affleck.
RELATED STORIES:
Lindsay Lohan's Bondsman Tells Radar: "She Had No Problem Posting Bail"