EXCLUSIVE: Harry Hamlin Missed Security Company Call About Belle Gray Burglary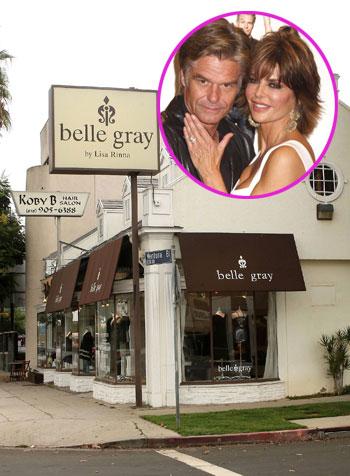 Viewers watched in disbelief Tuesday morning as Harry Hamlin and wife Lisa Rinna appeared live on the Today show and told the audience that their upscale boutique in the Los Angeles area was being robbed. But even on live TV, things aren't always what they seem.
Hamlin said, "Our clothing store is being robbed as we speak....Security Company ADT is useless . . . our alarm company was supposed to take care of this, and they did nothing."
Article continues below advertisement
But it seems ADT did do something – but nobody was answering their calls!
Rinna and Hamlin appeared on the fourth hour of Today, which began taping live at 7:00 am PST. According to ADT, the store alarm went off at 6:22 am PST - almost a full hour before Hamlin exclaimed on live TV that their store "is being robbed as we speak."
So why did it take ADT so long to notify the owners about a burglary to their store?
Lisa Rinna Closes Calabasas Clothing Store
RadarOnline.com made a call Wednesday to Rinna's upscale boutique, Belle Gray to get their reaction as to why it had taken ADT so long to contact them.
Richlee, a spokesperson for Belle Gray, was happy to set the record straight.
"ADT did call Harry around 6:30am (PST) but he missed the call," Richlee says, adding, "When Harry didn't answer ADT then tried the store manager at 6:31am (PST) but she missed the call too!"
Article continues below advertisement
According to Richlee, Hamlin got the message from ADT around 6:47am PST and he called ADT back immediately but was placed on hold. After waiting for upwards of 10 minutes, Hamlin had to hang up to do his spot with Rinna on Today. It was during the live taping that he got the call from Rona, the store manager telling him the store had been burglarized.
"It was the store manager on the phone with him on the Today show from about 7:10am – 7:14am…not ADT. The store had already been robbed."
And that information seems to jive with what ADT issued in their statement Tuesday:
"ADT Security received a burglar alarm signal from the Belle Gray store location at 6:22 am. Following standard alarm response policies, ADT made a call to the business premises to verify the alarm and received no answer. Within two minutes, at 6:24 am, ADT notified the police department of its receipt of a burglar alarm signal from the location. ADT then proceeded to contact representatives from the customer's call list. The ADT alarm system installed at the location functioned properly and ADT operators took appropriate action in notifying both the police and the customer."
Article continues below advertisement
The ADT spokesperson added, "In some areas of Los Angeles, ADT provides physical guard response services to customers through ADT Bel Air Patrol Services. The customer in this case did not contract with ADT for guard response services."
Perhaps the couple will now reconsider adding the physical guard response to their service given the latest incident.
"The store owners want to make sure everyone knows how things happened because there is a lot of misinformation out there," Richlee told RadarOnline.com.