VIDEO & PHOTOS: Harry Hamlin & Lisa Rinna Learn Of Break-In... On Today Show!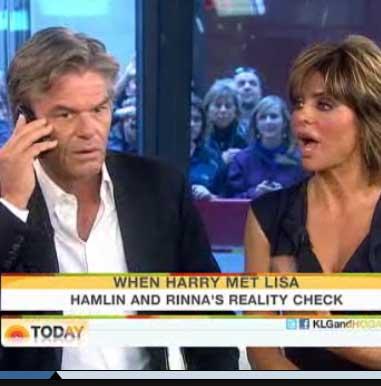 Harry Hamlin and Lisa Rinna learned their Sherman Oaks apparel store Belle Gray was robbed Tuesday, as they were appearing live on The Today Show to promote their new reality TV show, Harry Loves Lisa.
Watch the video on RadarOnline.com
The couple appeared in a few segments before the show's fourth hour, when business picked up for the worse.
Lisa Rinna Closes Calabasas Clothing Store
"Girls, I have to tell you I have to keep my cell phone on, because our clothing store is being robbed as we speak," the distracted L.A. Law star, 58, told the show's hosts, Hoda Kotb and Kathie Lee Gifford. "I'm getting the call right now to tell me what's going on."
Article continues below advertisement
An undaunted Rinna, 47, said "That's real life, baby!" as her hunky TV hubby learned of the details.
"The store is being robbed? They take much? They took piles from the first two racks, yes?" Hamlin asked, before complaining that the store's alarm company "was supposed to take care of this, and they did nothing, did nothing!"
Hamlin then went back to his call, saying, "I'll call you back because we're on live TV right now. No one was hurt, and the police are coming."
Hamlin kept his wits about him, saying, "Our reality show is about all this stuff that happens all the time."
A source within the Los Angeles police department confirmed Tuesday to RadarOnline.com that the store was broken into around 6:30 a.m. local time, and that the burglars stole nearly $10,000 worth of women's clothes off the racks. The burglars set off the store's alarm.
Harry Loves Lisa debuts on TV Land Wednesday at 10/9c.