Exclusive
EXCLUSIVE: Dog The Bounty Hunter Suing Entertainment Lawyers For Lost Commission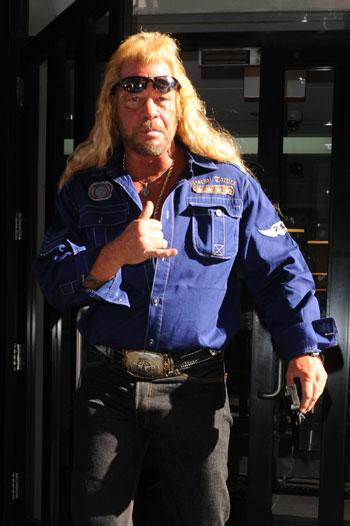 Duane "Dog the The Bounty Hunter" Chapman and members of his TV family are suing an entertainment law firm for legal malpractice and breach of fiduciary duty for illegally paying out commissions to a unlicensed talent agent for over 10 years.
Read The Court Documents
Since October 1999, Chapman hired the Los Angeles law firm Myman, Abell, Fineman, Greenspan, Fox & Light to handle his talent agent affairs, transactional work and litigation as well as agreements between producers and creators in film and television and to promote merchandising, and other work in relation to Chapman and his family members that work alongside him on the hit A&E reality show.
Article continues below advertisement
In 1999, Chapman claims in the court documents filed on Thursday that talent agent Boris Krutonog, who also worked with the law firm as a client, received illegal payment of commissions and royalties, including monies relating to the creation, development and formation of what ultimately became the acclaimed A&E reality series Dog The Bounty Hunter.
Chapman further alleges in the complaint that around 1982 the law firm began to specialize in California Talent Agencies Act cases and related work including representing talent agents, adding that Krutonog did not have the required Talent Agent's license to execute proper contracts on behalf of Chapman. He says the law firm was "fully aware" that Krutonog "didn't possess and had never possessed a Talent Agent's License," making every one of the documents, contracts and agreements that were negotiated, drafted and prepared by the law firm and Krutonog's compensation, commissions and royalties deemed "illegal."
MORE ON:
Dog The Bounty Hunter
The Chapmans didn't terminate their relationship with the law firm until just last year on October 21.
They claim to have suffered damages in substantial sums of commissions and royalties paid illegally to Krutonog and for other legal fees.
The Chapmans are seeking undisclosed monetary damages.
Related Stories:
EXCLUSIVE: Dog The Bounty Hunter Duane Chapman Rushed To ER