Exclusive
EXCLUSIVE: Dina Lohan Says Michael Is Hurting Lindsay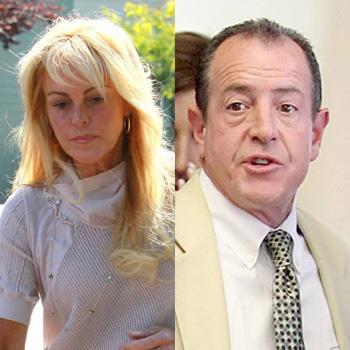 The battle of Lohan vs. Lohan wages on!
In the latest round Dina Lohan is once again blasting her ex, Michael Lohan, for calling her a liar about statements she gave exclusively to RadarOnline.com.
Dina spoke to RadarOnline.com to deny she wants to get a conservatorship over Lindsay.
She also shot down Michael's claims that she is shopping a reality show based on her daughter's struggle with addiction calling him a "twisted individual."
Article continues below advertisement
To this, Michael called Dina a "proven liar" and said her next attempt at a reality show should be called "Living Off Lohan."
"Listen, I haven't spoken out until now because I don't want this back and forth," Dina told RadarOnline.com exclusively. "I don't want a war of words. He's just hurting Lindsay."
As RadarOnline.com reported, the actress, 24, is currently seeking treatment at the Betty Ford Center for cocaine addiction.
Dina laughed at a new report about Michael (who has also been treated at the Betty Ford Center) saying he plans to purposely relapse so that he can check into rehab and convince Lindsay to do family therapy.
"I mean does he realize how ridiculous that sounds?" Dina told RadarOnline.com. "She doesn't want him there. Mike has lost his mind."
Michael told RadarOnline.com that Dina continues to live off of their daughter, something the Lohan matriarch says couldn't be farther from the truth.
Article continues below advertisement
"I'm a good mother. I have a great relationship with all of my kids," she said.
"As far as me living off of Lindsay, other than a minimal manager's fee, all of Lindsay's money went into a blocked trust until she turned 18. When Michael and I divorced, that money was split so that he couldn't get at it. I do not live off of my daughter."
EXCLUSIVE: Michael Lohan Begs Betty Ford, 'Let Me See My Daughter'
When it comes to their other three kids Michael Jr., 22, Ali, 16, and Cody,13, Michael must still pay child support for Ali and Cody. Dina admits they were able to cut a deal where Michael paid up, but since then he's fallen into arrears again.
"I was stupid and cut a deal with him the last time and he promised he would pay on time from now on. But now he's in arrears again. He talks about Lindsay, but how can he do this to his other kids?"