Exclusive
EXCLUSIVE BLOG: Tiger Mistress Joslyn James Writes For Radar - 'He Hasn't Changed'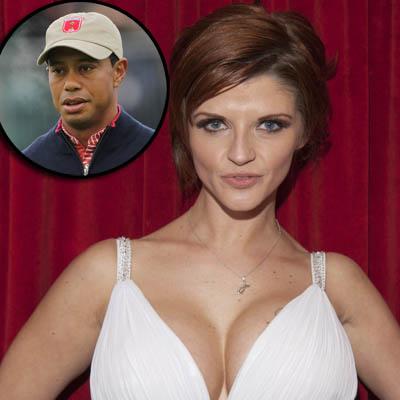 Joslyn James - best known as one of Tiger Woods many mistresses- is writing an exclusive blog, only for RadarOnline.com.
What is the meaning of "reformed"? Well I know what it means but does it apply to this person, Tiger Woods? With all the chatter of him being "reformed" since his split from Elin. I really don't understand how people believe he has any reason to change now when he had every reason to stop when he exchanged vows with Elin, and didn't. I don't think he has changed anything except his marital status and changed his roster. The thrill of the chase the hiding and sneaking around isn't relevant any longer one could only hope he now uses protection but he is a grown man who is going to do what he chooses to do. Through out his escapades he has worked up a roster of now household names and I'm willing to bet there are many more we may never learn of.
Article continues below advertisement
How ever I feel there is some underlying beef amongst the girls that has been fueled but personal opinions and must of all the press and it really doesn't need to be there, now let me explain...When I first learned of all the names to be honest unlike many people thought I was not mad or angry with the other girls I was heartbroken that is true but they didn't hurt me or lie to me Tiger did I was upset with him. I'm sure like myself they had no idea what he was up to and with the one year anniversary of this whole scandal sneaking up on us I have had some encounters with a few of the ladies but to tell you the truth I harbor no jealously or ill feelings towards them its been a hard year for all of us that were involved. We all had different encounters with Tiger and different types of relationships my relationship was different but all I can say is I learned a valuable lesson.
Now there is one individual whom I find to be bad news all the way around from the boldfaced lies to the death threats... Devon James has put the "D" in Deception and her latest claim of a sex tape between her and Tiger puts the cherry on her Deception Sundae of tall tails. I must say the Tiger Woods I knew would have never have allowed a "sex tape" to be made. Now Devon James has made it clear that she has a drug problem and that I believe because people on pure air don't behave how she does. Is it possible that she drugged him and secretly taped him? If that is true drugging someone is illegal isn't it well it will fit with her rep sheet but I think it will have Fraud on it instead. The stories that have come out of her mouth have all been proven to be lie after lie I don't believe anything she claims. I don't even believe she was ever even with him, I think she is a fraud and so is the tape. There are so many Tiger Woods look a likes out there but its a shame that she has to fraud the people of the world with this tape that is just a hoax so I would urge the consumers to not fall prey to the Queen of Deception.
Article continues below advertisement
I remember reading somewhere that Tiger was secretly seeing Rachel, amongst other things I've read in the press that were not true. I highly doubt he would be with any of the girls that were involved in this scandal. I also highly doubt any of us girls would want to be with him. Because looking at Tiger if you look past his trophy collection all I see is a person who lied, cheated and hurt so many people to satisfy his own needs without a thought of anyone else that he involved in all this. If he is 1st prize I would rather get 2nd or 3rd or not even have played at all. I'm not flawless no one is but how we come out from each life experience can make or break us.