COURT DOCUMENTS: Vince Neil To Be Arraigned For DUI And Speeding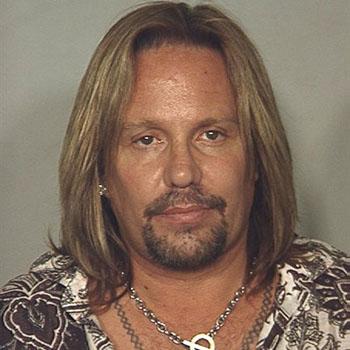 Rocker Vince Neil is expected to be formally arraigned Monday for DUI and speeding charges - both misdemeanors - stemming from his June 27 Las Vegas arrest, RadarOnline.com has learned.
COURT DOCUMENTS: Read The Criminal Complaint
At the hearing, Neil is expected to enter a plea to the charges.
Problems began for the Motley Crue frontman when the 2008 black Lamborghini he was driving was spotted by Metro Police, speeding and weaving between lanes.
Article continues below advertisement
Officers paced the vehicle and found that Neil was going 60 miles per hour in a 45 miles per hour zone and pulled the rocker over.
According to the police report obtained by RadarOnline.com, Neil's eyes were watery and bloodshot, his breath smelled of alcohol and his speech was slurred when officers pulled him over.
Although Neil, 49, admitted he'd had three glasses of champagne at the Hilton that evening, officers noted the rocker was argumentative and unsure at what time he'd had his last drink.
Suspecting Neil was under the influence, officers conducted three field sobriety tests - the "One-Leg Stand," the "Horizontal Gaze Nystagmus" and the "Walk-And-Turn" tests.
Neil - who at one point had to lean on a police car for balance and proclaimed "I can't do this!" - failed all three tests.
Vince Neil Arrested For DUI: See His Mug Shot
Unable to pass the tests, the frontman was then subjected to a breathalyzer where his blood alcohol content registered .215 and .216 - more than double the .08 legal limit in Nevada.
Article continues below advertisement
Neil was arrested and booked into the Clark County Detention Center, but was released the next day on $2,000 bail.
He was originally due to be arraigned on the DUI and speeding charges in September, but his attorneys asked for a two week delay which was granted by the judge.
And this isn't the first drunk driving charge Neil has faced. In 1984, the rocker pleaded guilty to manslaughter and drunken driving after he crashed a sports car head-on into another car, killing his passenger.