AUDIO: Octo-Mom Nadya Suleman Says Landlord 'Sensationalizing' Foreclosure Claims; Would 'Never' Do Porn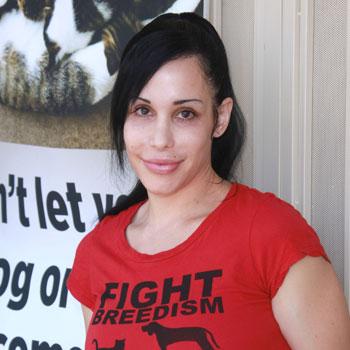 Octo-Mom Nadya Suleman called in to an LA radio station on Thursday morning where she shot down claims that she's going to lose her house and said she would "never, never" do a porn film for her children's sake—and RadarOnline.com has the interview.
Listen to interview below.
Suleman called in to the nationally syndicated "The Kevin & Bean Show," where she confirmed she is "current" in her payments on the La Habra house she shares with her 14 children.
Article continues below advertisement
In an exclusive interview with RadarOnline.com, the deed holder to the house, Amer Haddadin, said Suleman is paid up for September and October, but still owes the balloon payment of $450,000.
However, Suleman says Haddadin is blowing the whole thing out of proportion.
"I'm the owner - the house is under my corporation's name. I bought the house," she said. "I think he wanted some publicity like everyone else and their brother. He's sensationalizing this."
Haddadin responds to her claims of owning the house saying, "I don't think she understands the way things work. In order to own something, you have to pay in full."
Nadya admitted Haddadin did sell her the house, but says she doesn't make the mortgage payments to him directly.
EXCLUSIVE: Octo-Mom's Mom Says 'My Daughter Is Insane'
She also addressed rumors that she was offered money by adult film giant Vivid Entertainment to do a porn.
Article continues below advertisement
Listen to OctoMom Interview