VIDEO: Zsa Zsa's Body Won't Be Preserved, Husband Labels It 'Sick!'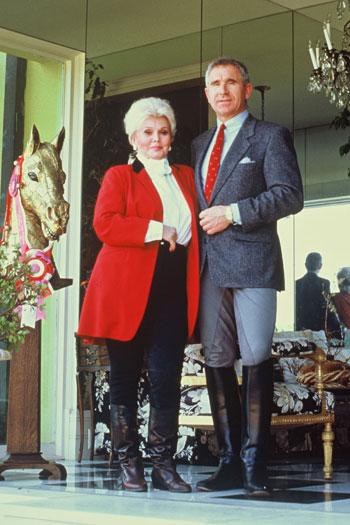 In a bizarre and impromptu press conference held outside the couple's home in Bel Air, Calif., on Friday, Prince Frederic von Anhalt passionately told reporters that he has no intention of making plans for Gabor's death because he is focusing on her recovery.
"This is so sick! I did not leak this story out. Period! When I saw the story I nearly threw up," von Anhalt told RadarOnline.com. "My wife is alive! What are they talking about? We are not that sick up here. We don't talk like that."
Article continues below advertisement
The German royal, who is now a US citizen, told RadarOnline.com that while Zsa Zsa is still bedridden, she is showing signs of recovery. The legendary actress has been eating with the help of a feeding tube, but on Friday she requested orange juice and matzo ball soup from famous Beverly Hills deli, Nate & Al's.
Gabor's health took a turn for the worse this summer, after she broke her hip at her home July 17 following a fall. Her condition gravely deteriorated after a procedure to remove blood clots in her upper body at Ronald Reagan UCLA Medical Center earlier this month.
On Tuesday, an ambulance was called to Gabor's home after von Anhalt found her unresponsive. She was released one day later.
Zsa Zsa Found Unresponsive, Says Husband
Von Anhalt said the most frustrating part of his wife's illness has been the aftermath resulting from the report that he is planning to preserve Zsa Zsa's body when she dies.
"I got an email from this doctor in Germany saying he wants to come and meet me," he said. "What a f***ing idiot! He emailed me and said he wants to meet me and come up to the house. Is he out of his f***ing mind? He's a sick b***tard!"