VIDEO: Michelle Duggar Announces 'Someone's Expecting!'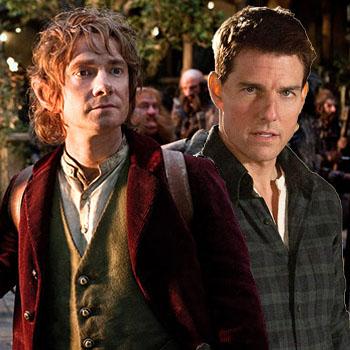 Michelle Duggar made a bombshell announcement on the latest episode of her show, stunning all 19 of her children as they were gathered together. "Someone's expecting!" Michelle revealed to the family.
Watch the video on RadarOnline.com
The news that Michelle is pregnant with her 20th child would be a surprise to the family, but not something unexpected. She has spoken out on recent episodes of wanting to have another child if "it is God's plan."
Article continues below advertisement
"But it's not us," she revealed with a big laugh to the family that was quietly standing around her! Michelle announced that Jon Boyle, a production assistant, and his wife were expecting their first child. The family all clapped and cheered, maybe a little relieved that Michelle and Jim Bob weren't having their 20th child yet.
"I think my family was looking at me like, Mom?" Michelle laughed. She was tickled to tell the news to her family and said "we get thrilled to find out that anyone is expecting, just because we know how special that is."
The episode also showed that the 19th and tiniest Duggar, Josie, is doing a really well after her return home from her long hospitalization and the older sisters are taking care of her. Josie is off of her oxygen for two hours a day and Michelle says "she's doing so good. She's happy not to have that in her nose." Michelle also said that the littlest little hardly ever cries.
EXCLUSIVE INTERVIEW: Doctor Does Shock Therapy On New TLC Show Freaky Eaters
Article continues below advertisement
Mackynzie, the Duggars first grandchild and the daughter of Anna and Josh, is also on the episode and she gets to go to work with her parents at the car lot and has cut her first tooth. Josh and Anna both talk about how happy they are that they have the flexibility to spend time with their daughter during the work day.
19 Kids and Counting showed a trip the family took, when they joined another large Christian family the Von Traeger's at their church and watched them perform songs to the congregation.
The episode ended with "Bible Time," where the Duggars read the Bible and spent time praising their children. "It's a sweet time, it is, but it does take a little while," Mom Michelle said in her good natured way.
"I am so grateful to God that we are all back together under one roof," Dad Jim Bob told the family.
"You praise your children ten times more than you correct, which is really hard to do," Michelle said was something that she and Jim Bob tried to practice. With 19 children that's a lot of praising in one day.