PHOTOS: Kate Gosselin Shows Off Sexy Bikini Bod In Mexico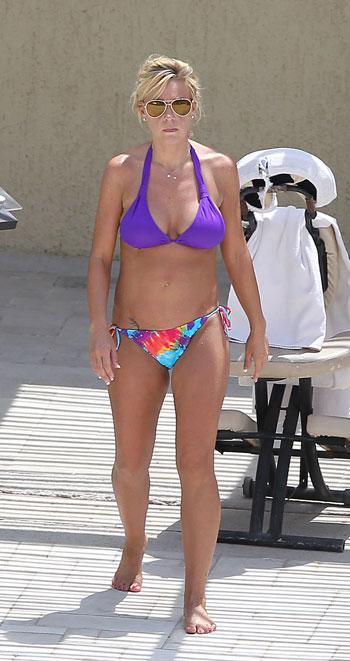 Kate Gosselin has joined the ranks of Hollywood women who seem to only get better with age. The reality television mom stepped out in a teeny bikini while relaxing during a recent work trip in Mexico.
Kate, looking tanned and toned, showed off her ripped abs and runner's legs as she hung out by the pool. She was seen deeply engrossed in the book she was reading: Goodbye Nobody by Jennifer Weiner. The main character in the novel is named Kate!
Article continues below advertisement
Over the weekend, Kate and her bodyguard Steve Neild were seen seen walking around the grounds of a hotel in Cabo San Lucas. Steve and Kate looked at ease with one another on their walks around the grounds. On one day, they were even wearing tops that were the same shade of blue.
Last year, Kate spent Thanksgiving with Neild and his wife Gina at her home. She called them "my best friends" and credited their support with helping her get through her divorce from Jon.