PHOTOS: Sexy Stars Who Play With Pro Athletes - In Their Bikinis!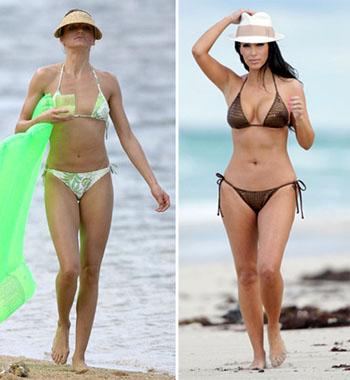 Since the early days of Hollywood, starlets and sports stars have gone hand in hand - literally! RadarOnline.com has photos of twenty sizzling stars who have fallen for sports studs over the years, stripped down into their bikinis!
The New York Yankees have always had knack with their bats -- and with big screen bombshells. In the 1950's, Joltin' Joe DiMaggio hit a homerun with sex goddess Marilyn Monroe, and since then, the Yanks have scored with the most beautiful women in Hollywood. Alex Rodriguez definitely wins the Most Valuable Player Trophy, scoring with Madonna, Kate Hudson and current gal pal Cameron Diaz, but Derek Jeter isn't far behind with his sexy star stats, which include Minka Kelly, Jessica Biel and Jordana Brewster!
Article continues below advertisement
Every hockey player needs a smoking hot bikini babe to warm him up when he gets off the ice. Just ask Mike Comrie and Mike Fisher, who skated into the arms of Hilary Duff and Carrie Underwood respectively.
Lamar Odom really shot a slam dunk with Khloe Kardsashian. The reality TV show star was so impressed with the baller's moves, that she married him less than a month after he first courted her.
Her sister Kim is more of a football fan than any other sport. The curvy reality show star has already gone pro with two NFL stars, Reggie Bush and Miles Austin. Hopefully she takes home the trophy with the next lucky lad she lands!
MORE ON:
Sexiest Bodies Hollywood