PHOTOS: Hollywood's Most Stylish & Sexy Stars In Bikini Wars!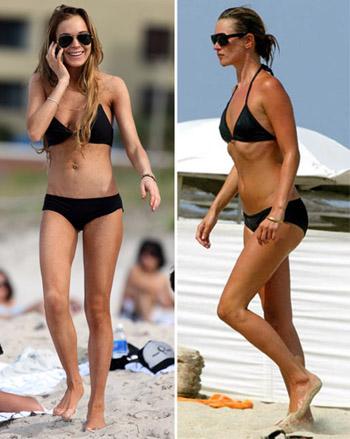 These sexy celebs have made secondary careers out of their fabulous sense of fashion, because people don't just want to see them -- they want to be them!
But when it comes time to strip down out of their designer duds and into a skimpy swimsuit, only one of these designing women brings the most scorching hot style to sand.
Find out who has the chicest body on the beach in RadarOnline.com's sexy weekly feature.
Article continues below advertisement
Lindsay Lohan's love of leggings was the inspiration for her 6126 collection, while the catwalk led Kate Moss to couture. While both of these total babes splash the covers of fashion mags, they have also done their time in the tabloids due to their scandalous sides. Which of these troublemakers causes more of a ruckus when she sheds her layers?
Sarah Jessica Parker put Sex in the City, but then Whitney Port moved into town. Both fashion forward babes look hot on the red carpet, but only one puts more sexy on the beach.
Supermodel Elizabeth Hurley not only wears swimsuits flawlessly, she makes them! But Elle Macpherson (nicknamed The Body) has scored her second career as a luxe lingerie designer. Which of these sexy supermodels rises the temperature more when they brave the waves?
From country cuties Jessica Simpson and Taylor Swift, to Boho babes Nicole Richie and Ashley Olsen, find out which celeb designers come up on top in RadarOnline.com's Bikini Wars!