PHOTOS: Bikini Wars! Sexy Songbirds Battle It Out On The Beach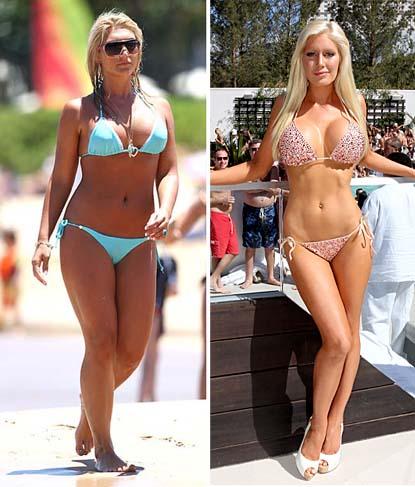 These sexy singers may have a thing or two in common when it comes to their careers and personal lives, but when it boils down to their bikini bods, no two ladies are alike and RadarOnline.com has the photos to prove it!
Heidi Montag and Brooke Hogan are both reality TV stars turned aspiring singers, who love to flaunt their assets in skimpy bikinis, but which of these two really brings the heat to the beach?
Article continues below advertisement
Britney Spears famously split from her baby-daddy shortly after her 2nd son was born, but she isn't the only one who had to learn how to juggle a career in music with diaper-duty! Christina Milian was inducted into the sexy, single mother club just this year, splitting from The Dream shortly after their son was born. Which one of these stage stars puts on the best show in their swimsuit?
Shakira and Paulina Rubio both spice up the stage with their sultry Latin American songs, but who steams up the beach to the point of heat exhaustion?
Fergie and Beyonce have both made it as fierce front women and sexy solo acts, but whose covetable curves top the bikini charts?
And how about cowgirl cassanova's Carrie Underwood and Jewel? Which of the crooning cuties lassos the boys in with her purebred Palomino bod?
From music's blissful newlyweds to its' baddest bad girls, see who takes home the Bikini Wars! title in RadarOnline.com's weekly feature.