PHOTOS: Bikini Wars! Best Beach Bodies On The Tube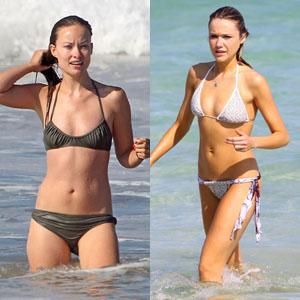 In honor of the Emmy Awards this Sunday, RadarOnline.com has picked out the hardest and hottest bodies on TV, for a full-out Bikini Wars survival of the fittest.
Who will take home the coveted Best Beach Bodies of the Tube trophies? The only place you can find out is right here!
What's up Doc?
When it comes to hospital hotties, Kate Walsh and Olivia Wilde both pass our full body examination with a splash, but we can only certify one as the Hottest Doc on television.
Article continues below advertisement
AnnaLynne McCord is the most popular coed in the 90210 zip code, and when she strips down into her skimpy bikini, she definitely makes waves.
But Hayden Panettiere also has a rocking bod from her rigorous cheerleading workouts on Heroes.
Which lovely lady has the Most Popular Student Body? It was a tough call, but only one of the onscreen teen queen's will be elected.
Christina Applegate and Ali Larter have a lot more in common than popular roles on huge television shows.
Both babes have buns in the oven for the very first time, and also enjoy frolicking on the beach in black bikinis.
Which pre-preggers, mom-to-be reigns our beach?
Find out who scored the RadarOnline.com Bikini Wars awards, by checking out the gallery!