PHOTOS: Bikini Bad Girls! Trouble Makers Strip Down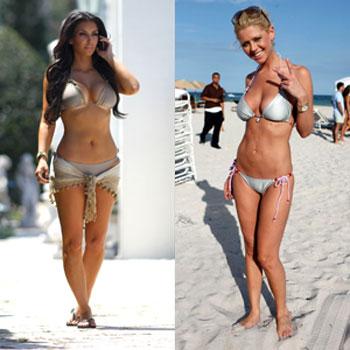 Sugar and spice and everything nice is not how you would accurately describe these bikini bad girls!
Famous for their wild ways and arrest-worthy antics, the personal lives of these sexy stars seem to grab more headlines than their careers do!
From Britney Spears, Lindsay Lohan and Paris Hilton to Kate Moss and Kendra Wilkinson, RadarOnline.com has all the photos -- and the reasons why -- these gorgeous girls are bad to the bone!
Article continues below advertisement
At first we thought Lindsay Lohan was just a Mean Girl, but then her wild ways caught up to her.
This big screen babe has done the rehab circuit like most stars work the red carpet, and spends more of her time in front of the judge than she does in front of the camera.
We miss the days when Lindsay held center court at all the Malibu beach parties, showing off her flawless figure in the hottest bikini fashions.
Drew Barrymore was the original bad girl, painting the town in scandal as a child! Landing herself in rehab before prom, the trouble making teen turned a new leaf and now enjoys a successful Hollywood career and dates funny boys like Justin Long instead of getting married bar owners in bars.
When Kendra Wilkinson left the Playboy Mansion and fell in love with a footballer, we thought her days of nudity were over, but the busty blonde proved she wasn't just another Girl Next Door with her headline grabbing sex tape scandal.
And then there is the bad girl gone good, Kim Kardashian, who sky rocked to fame for taking her clothes off, before making a career of putting them on!
What other bikini bad girls are on our Radar? Check out the sizzling photos to find out!