PHOTOS: Best & Worst Stars In Stripes!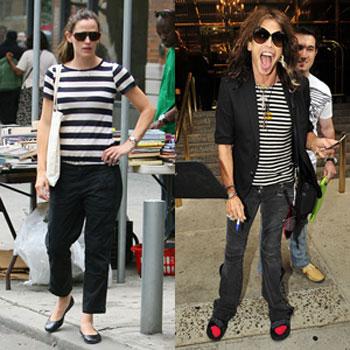 Stripes were everywhere this summer, as stars stepped out across the globe in the timeless trend. While some of our famous friends used stripes to add a little sass into their daily wardrobe, others went overboard with the nautically themed duds---resulting in fashion faux pas!
Jennifer Garner usually shies away from patterns, instead wearing monotone ensembles, which tend to be a tad boring. We were delighted to see the hot mamma pair a striped t-shirt with her black trousers and ballet flats, proving that a little bit of pattern can go a long way!
Article continues below advertisement
Katie Holmes hit the red carpet a few months ago, in a truly patriotic red and navy Michael Kors sleeved dress, and although we loved the designer dress, we couldn't get past her pairing of granny-style buckled heels!
Kim Kardashian and Drew Barrymore did the stripes look right, pairing their cool tops with army-inspired duds, while Eva Longoria Parker showed off her petite figure in a flattering frock.
What rocker paired his stripes with---Tevas? Check out our gallery and find out!