PHOTOS: American Idol Star Adam Lambert Fights With A Photographer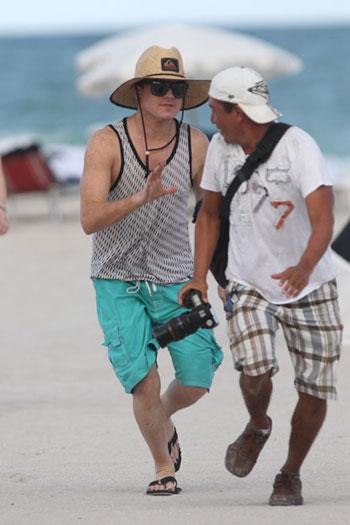 American Idol star Adam Lambert has been a trend setter with his fashion forward dress, but after a run-in with a photographer in Miami on Thursday, he may become better known for his lack of patience than his popular music.
According to an eyewitness, Adam was partying on the beach with friends and was being photographed for a while, which seemed to wear on his nerves.
After about one hour, Adam asked one particular photographer to leave but the photographer told him that he couldn't leave until Adam had left.
Article continues below advertisement
As Adam and his buddies packed up to go, the photographer was allegedly in front of them snapping pictures when Adam started chasing the photographer.
Wearing turquoise shorts, a tank top and black fingernail polish, Adam allegedly raced after the photographer and tried to grab his camera.
The Hottest Stars From Reality TV
According to the eyewitness, Adam all of sudden "leapt at the guy he'd told to go away. The photographer tried to get away but Adam grabbed at him."
MORE ON:
Celebrity Justice
Adam's friend intervened and pulled him off the guy, separating the two but Adam was unsuccessful in getting the guy's camera away from him.
The eyewitness goes on to say, "It didn't look provoked to me. Adams friends pulled the singer away and they went back to their hotel - in the end nobody looked hurt."
Sean Penn and Kanye West have had similar run-ins with photographers. Sean took a plea deal where he was placed on three years probation, and ordered to perform 300 hours of community service and 36 hours of anger management.