NEW PHOTOS: Snooki Still Lookin'; Says 'I've Been Single This Whole Summer'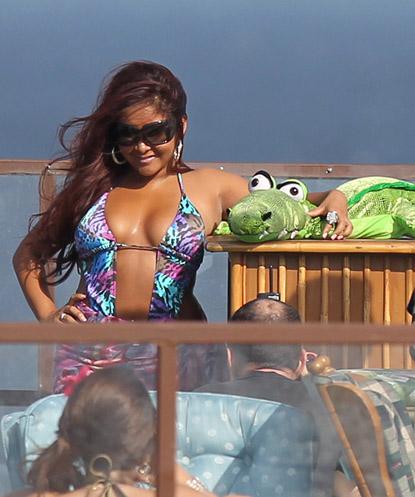 Note to Jeff Miranda - Jersey Shore's pintsized sweetheart says she's single - and has been for months!
Nicole "Snooki" Polizzi -- seen here posing in a bikini as shooting wrapped on Jersey Shore earlier this week -- is shooting down reports that she and Miranda are an item. On Tuesday, she Tweeted, "I've been tweet deprived!! And for the record, I have been single this whole summer. These guys are just bein ultimate creepers.. BlEh !"
Article continues below advertisement
Single for the whole summer? Hmm... that's interesting.
As RadarOnline.com was first to report on August 30, Miranda, an ex-Iraq war veteran, 'proposed' to Snooki on the cover of the September 10 issue of Steppin' Out Magazine, which featured him, shirtless and wearing fatigues, on bended knee proposing to the Jersey Shore queen.
In the exclusive excerpts from his interview, obtained by RadarOnline.com, Jeff tells Steppin' Out editor Chaunce Hayden why he decided to propose to Nicole "Snooki" Polizzi.
EXCLUSIVE VIDEO: Tough Love For Snooki's Ex; Valentine's Day Video Also Shows Mystery White Powder
"I want us to be together forever. I could see us having children. I want to pop the question to her. If we got married we would be the best parents around. She's so loving and puts everyone else before her self. She'll be a great mother."
He admits that Snooki is going to be shocked by his magazine cover proposal, but he isn't worried that she'll say no. Once she deals with the shock I think they'll say yes. I really do. In fact, I know she'll say yes."
Wrong, Jeff! Snooki said no.