Kitchen Nightmares Chef Commits Suicide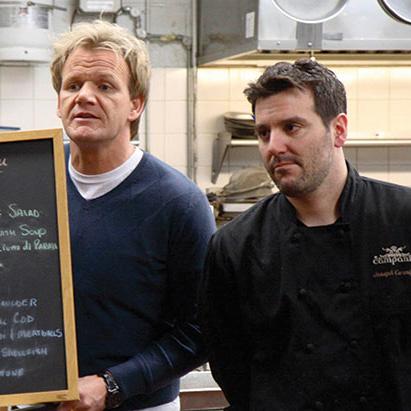 Article continues below advertisement
When Cerniglia appeared on Ramsay's reality show in 2007, the volatile host told him: "You're restaurant is about to f** king swim down the Hudson – why did you become a chef-owner if you haven't got a clue how to run a business?"
Authorities revealed that a motorist called 911 last Friday after spotting a man standing on the George Washington Bridge at around 1pm; his body was found later that day.
VIDEO: Gordon Ramsay Calls Out Jimmy Kimmel On His Weight
Cerniglia's family posted messages of condolences on his Facebook page 'thanking all of his friends for their messages and condolences.'
They asked for financial donations be sent in lieu of flowers to support his widow Melissa Cerniglia and their three sons Evan, Michael and Nicholas.
When he appeared on Kitchen Nightmares Cerniglia claimed that he owed $50,500 to his suppliers.
Article continues below advertisement
He added, "The debt of this restaurant alone is overwhelming – my personal debt, wife, kids, mortgage – that's a lot of debt."
During the show, his wife was seen crying after she said, "If this business fails, we will lose everything."
Gordon Ramsay Parks In A Handicapped Spot
After Ramsay's advice the restaurant survived and held a grand re-launch and according to locals it seemed to be thriving.
One local, Eveline Grzymala, 22, told the New York Post: "He said that Ramsay was intense, but that he turned out to be a nice guy – that in the end he helped him out."