Exclusive
Hell's Kitchen Mistress To Publish Tell-All Book About 'Flash' Gordon Ramsay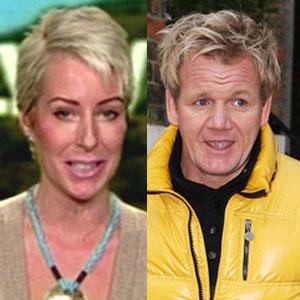 Article continues below advertisement
"Gordon's time was always so limited when we met, so there was a reason why I called him 'Flash Gordon' in the bedroom," Symonds told us in an exclusive interview.
Dad-of-four Ramsay has denied the allegation of a secret romance with Symonds, which became public in a 2008 newspaper sting.
"I plan to set the record straight," said Symonds.
"I also plan to expose the truth about my appearance on the Hells Kitchen finale, which was filmed during the period that I was having an affair with Gordon, that he has since denied inviting me to.
"The fact is that Gordon and I had a long relationship, before he became this fame-ravaged, foul-mouthed monster he is today.
"He knows there were some good times and bad times over the years and the book is packed with hilarious escapades, great fun, great sex and great arguments.
"I hope he enjoys reminiscing about them as much I will enjoy telling them."
Symonds has previously written Having An Affair? A Handbook For The Other Woman, which she wrote after having a fling with British author and politician Jeffrey Archer.