Jury Awards Man Assaulted By Kid Rock $40,000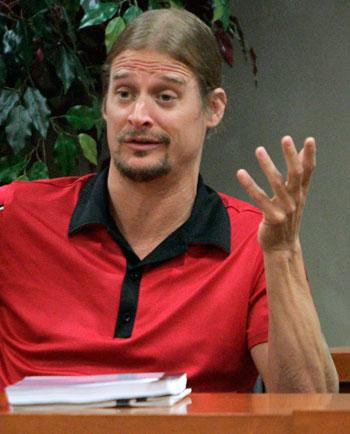 A man claiming he was assaulted by musician Kid Rock and his entourage while dining at a Waffle House restaurant in Georgia was awarded $40,000 on Friday, RadarOnline.com has learned.
Harlen Akins filed a lawsuit against Rock – whose real name is Robert James Richie – and five of his friends after a fight broke out between them in 2007, leaving Akins with costly medical bills.
Rock testified in an Atlanta-area courthouse on Thursday that he never laid a hand on Akins, but instead fought with him using words.
Article continues below advertisement
"I gave it to him verbally. I said, 'Shut your mouth, man,'" Rock said.
"If you look at me, Bossy, Jason and Bear," he said referring to members of his entourage who are all big men, "if we wanted to hurt this man, we could have hurt him very, very bad."
Akins asked for $6,000 in medical fees and an undisclosed amount in punitive damages, but was ultimately awarded the $40,000 in compensatory damages by the jury.