Kid Rock Appears In Court As Trial Begins In Waffle House Brawl Case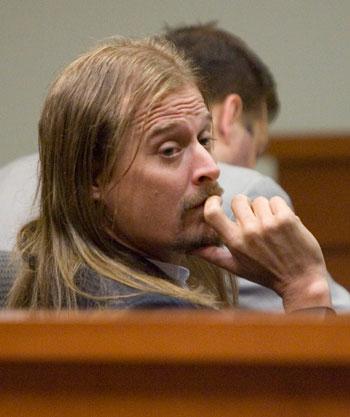 Kid Rock was present in court Tuesday where a Waffle House waitress testified that she saw him 'swing and hit' another customer at the Georgia restaurant which resulted in the rocker's arrest.
Melissa Burkes told the court during trial in a civil lawsuit against Kid Rock that she saw the star's entourage 'push Harlen Akins out the door' before brawling with him in the parking lot of the Buford Highway restaurant.
Article continues below advertisement
Harlen Akins is suing the rocker claiming he was beaten by Ritchie's entourage and seeks to have a $6,000 medical bill covered plus "a small amount" for pain and suffering, according to his attorney.
Kid Rock is contesting that he did not cause the fight that happened on October 21, 2007 and that he repeatedly tried to diffuse the situation.
William Horton, attorney for the rocker says, "There's a pattern of provocation and escalation from the plaintiff," Horton argued in his opening statement. "The plaintiff picked the fight."
But testimony by eyewitness Burkes paints a different picture.
"Akins was on the ground and they were still fighting him," Burkes testified.
She said Akins, 41, was not fighting back.
Burkes testimony supported a claim by Akins lawyer, Eric Hertz that Kid Rock started the brawl.
"Go out there and kick his butt," said Hertz, quoting defendant Ritchie.
The attorney added: "Someone insults Kid Rock and he beats them up."
Article continues below advertisement
Ritchie was arrested after the brawl and sentenced to 12 months probation and anger-management counseling.
The 2007 fight broke-out after Akins got in an argument with one of Kid Rock's friends and the rocker told him to 'Shut the f*** up'.
A video camera inside the Waffle House captured what happened.
On the video, members of Kid Rock's entourage can be seen striking and stomping on the plaintiff, smashing his cell phone and a Waffle House window.
But Kid Rock claims he acted in self-defense when he picked up a chair and tossed it through the window of the all-night diner.
He said Akins repeatedly harassed the women at his table, eventually telling the defendants, "I am going to call my boys and have them shoot the place up."
After punches were thrown, Jason Krause, one of Ritchie's co-defendants, destroyed Akins' phone to prevent him from calling his friends, the defense argues.
Akins then "purposely punched his fist through a large plate glass window in an attempt to attack" Kid Rock, the star's attorney claims.
Kid Rock's lawyer contests that Akins injuries were 'self inflicted' and that that the civil suit is only being brought because his client is famous.
The court case in Dekalb County continues this week.