Kid Rock Testifies In Waffle House Brawl Trial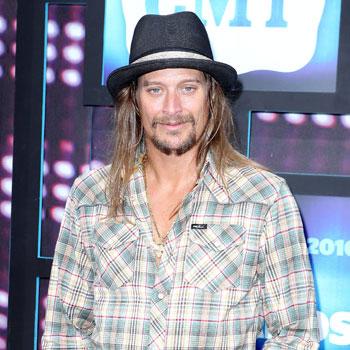 Musician Kid Rock took the stand Thursday morning in a Georgia courthouse to testify about a 2007 fight he was involved in with alleged victim Harlen Akins at a Waffle House restaurant.
Akins claims Kid verbally assaulted him during an early morning fight at the restaurant, followed by members of his entourage beating him up and smashing his cell phone
Kid admitted that heated words were exchanged with Akins but that it was Akins who goaded him and his entourage into a physical confrontation.
Article continues below advertisement
The musician denied ever laying a hand on him.
"I gave it to him verbally. I said, 'Shut your mouth, man,'" Kid said, who was born Robert James Ritchie.
However, Kid testified that members of his entourage who were at the restaurant did hit Akins, but only used as much force as necessary and did so in self-defense.
"If you look at me, Bossy, Jason and Bear," he said referring to members of his entourage who are all big men, "if we wanted to hurt this man, we could have hurt him very, very bad."
Kid also had to explain why he got into a fight with fellow rocker Tommy Lee at the MTV Video Music Awards back in 2007.
The musician told the judge that he and Lee had "bad blood" over their relationships with Pam Anderson and had exchanged "smack talk" text messages prior to the VMA's.
The two rockers somehow ended up next to each other during the award show.
"He smacked my hat off" Kid testified, so he "popped" Lee in the face.
Article continues below advertisement
Kid said that after the incident, Lee called him and apologized and the two rockers are now friends.
Earlier this week, several professionals also took the stand including several doctors who testified that Akins had injuries consistent with having been in a fight.
And firefighter, who drove Akins to the hospital, said that he didn't note anything in his report about the alleged victim being bloody and found no signs of internal bleeding.
In 2008, Kid pleaded no contest to a misdemeanor charge of simple battery stemming from the incident and was sentenced to one year probation, anger management counseling and community service.
Akins is seeking restitution of roughly $6,000 in medical costs plus an unspecified amount for pain and suffering.
Related Stories:
Kid Rock Appears In Court As Trial Begins In Waffle House Brawl Case