Judge Denies Debbie Rowe's Request For Attorney Fees From Michael Jackson Estate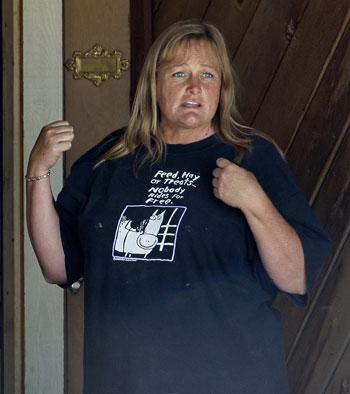 Denied.
Debbie Rowe's request for nearly $200,000 from Michael Jackson's estate was denied by Judge Mitchell Beckloff Wednesday in a Los Angeles courtroom.
RadarOnline.com was in court as Rowe sought the money for attorneys fees related to costs she incurred last year regarding custody issues after Jackson died.
READ THE DOCUMENT: Katherine Jackson To Debbie Rowe In Court Battle -- You Want Too Much
Attorney Eric George represented Rowe on the custody matters relating to Michael's two oldest children, Prince Michael and daughter Paris. Rowe and George walked away with nothing as the judge ruled there was no law permitting George to obtain fees from Jackson's estate in this situation.
Article continues below advertisement
Rowe is the biological mother of Prince Michael and Paris but Michael's mother, Katherine, has custody.
Jackson's estate and Katherine Jackson had objected to the amount of money that Rowe was seeking.
Rowe's attorney, Eric George, was Oksana Grigorieva's attorney in the beginning stages of her custody battle with Mel Gibson over their infant daughter, Lucia.
Katherine Jackson's family law attorney, Diane Goodman had stated in court documents, "petitioner (Katherine Jackson), contends that the amount of fees requested by Debbie Rowe is not reasonable. Wherefore, Petitioner requests that the petition for Approval for Attorney's Fees be denied if determined by the court to be unreasonable.