Exclusive
EXCLUSIVE: Watch Out Jesse James! Kat Von D's Divorce Proves She Means Business - Read The Settlement Here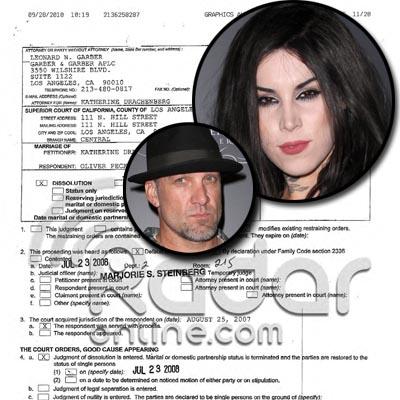 Biker mogul Jesse James may have bitten off more than he can chew in his relationship with celebrity tattoo artist Kat Von D if her divorce from ex-husband Oliver Peck is any indication, RadarOnline.com is exclusively reporting.
EXCLUSIVE DOCUMENTS: Read Kat Von D's Divorce Papers
According to the divorce papers filed in 2008 at the Los Angeles Superior Court, Kat -- born Katherine Drachenberg -- proved what a smart and tough business woman she really is.
Article continues below advertisement
Kat hired high powered attorney Leonard Garber to end her four year marriage to fellow tattoo artist Peck, who in a regrettable decision represented himself.
The couple was married on March 8, 2004 before splitting because of irreconcilable differences on May 26, 2007 without having any children.
Peck got no alimony, no spousal support, none of her LA Ink television show proceeds as well as none of her SAG or AFTRA residuals, pension or social security benefits.
The couple retained their own properties and business interests in both Los Angeles and Texas plus any funds in their individual bank accounts.
In short, it was a clean break for Kat and she made sure that Peck could not make a single cent off her name following their divorce in the air-tight agreement.
Ironically, her current lover Jesse James, who has been married three times, pulled a similar stunt on his first wife Janine Lindemulder when she was awarded no spousal support from him after he made her sign an iron-clad pre-nuptial agreement.
Article continues below advertisement
Once their divorce was finalized Peck re-located to Texas to work and promote his Elm Street Tattoo parlor while Kat stayed in Hollywood to further brand herself and her designs.
The pair did not stay in touch and although Kat was the clear winner in their divorce, Peck got revenge by breaking her tattoo world record.
During an episode of LA Ink at her tattoo shop High Voltage Tattoo in Hollywood Kat gained the world record of most tattoos by a single person in 24 hours with a total of 400 - which Peck beat shortly afterwards by doing 415 in the same time period.