Exclusive
EXCLUSIVE PHOTOS: Lindsay Lohan's Last Moments Of Freedom Before Rehab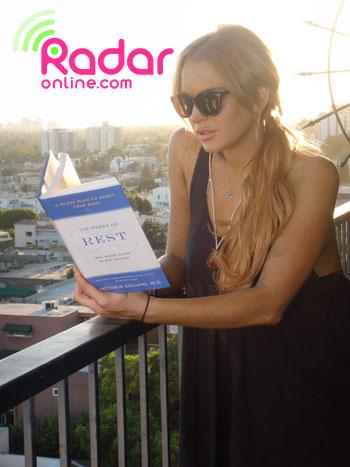 Lindsay Lohan spent her last night of freedom before rehab reading a self-help book — and only RadarOnline.com has the exclusive photos of the troubled starlet from inside her West Hollywood apartment.
Wearing a loose fitting black sleeveless dress with matching sunglasses, LiLo was snapped on her balcony at dusk reading The Power of Rest, written by Dr. Matthew Edlund.
It's the latest statement from Lohan who is attempting to undergo an image makeover, before a critical October 22 court hearing that could end with her sent back to jail for 30 days for flunking a drug test.
Article continues below advertisement
The 24-year-old was booked into jail Friday, however, her lawyer filed an appeal, arguing Judge Elden Fox legally couldn't deny bail on a misdemeanor case.
Lohan was sprung on $300,000 bail and RadarOnline.com has confirmed she checked into rehab for a fifth stint in the meantime.
According to our source, Lohan is "tired of being the party girl" and turned to the self-help book for guidance to deal with a "terrible" and disrupted sleeping pattern.
"Lindsay hopes to use this book to help restructure her sleeping patterns so she can function better," said the insider.
"She has been shooting films into the wee hours of the morning since she was 11 or 12 years old and then sleeping in trailers while on the set.
"She never established a normal sleeping pattern.
"She was recommended the book by both a doctor and a friend and hopes it will guide her in the right direction."