Exclusive
EXCLUSIVE: Octo-Mom's Doctor Subpoenas Rival Fertility Clinics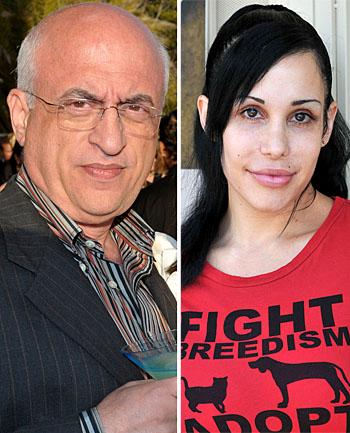 The doctor who implanted Octo-Mom with the embryos that resulted in the birth of her brood is seeking medical records from rival clinics who he claims also treated Nadya Suleman, RadarOnline.com has learned.
Lawyers for Michael Kamrava -- the doc fighting not to his medical license in California, amid accusations of "gross negligence" -- have subpoenaed the Southern California Reproductive Center and the ART Reproductive Center.
Article continues below advertisement
The legal move was revealed in a court hearing Monday.
Both centers have denied having any medical records of Octo-Mom, insisting in a court declaration, they "did not provide treatment" to the woman.
But Dr. Kamrava's lawyer, Henry Fenton, told a Los Angeles court he found it "disingenuous" that the centers could not locate the information.
He said the doctor had communications with the centers which proved they had records.
But he added that they wanted to only release specific parts of those notes.
Octo-Mom's lawyer, Jeff Czech, had wanted the identity of the sperm donor kept confidential, Mr. Fenton said
The judge has not yet issued a ruling.
While under the treatment of Dr. Kamrava, Nadya delivered six babies between 2001 and 2006.
He also performed the in-vitro fertilization procedures that resulted in the birth of her octuplets in 2009.