Exclusive
EXCLUSIVE: NJ Housewives Castmates To Testify Against Danielle Staub In Defamation Trial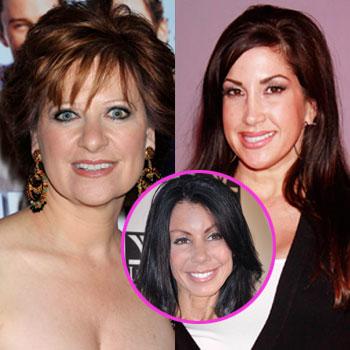 The witness list is mounting against Danielle Staub. RadarOnline.com has learned that two of her former Real Housewives of New Jersey castmates have been added to a joint witness list filed Monday in relation to a federal defamation lawsuit filed late last year by Danielle's ex-husband Kevin Maher.
Read The Exclusive Court Documents Here
Among the 14 people on the list are Caroline Manzo and Jacqueline Laurita, who plan to side against the controversial reality star.
Article continues below advertisement
After settlement negotiations fell through last week -- as first reported by RadarOnline.com -- the case will now go to trial. The suit was filed as a result of an interview Danielle gave in June 2009 for People magazine and other comments she has made in public. She has alleged that during their short-live marriage in 1988, Maher raped her on a bed of broken glass, inserted his handgun inside her and played Russian roulette, and killed her dog by hanging it.
According to the newly filed documents, Caroline plans to testify "about defamatory statements made by Danielle about Maher involving his alleged rape of her and alleged killing of her dog.
"She will also testify as to her opinion that Danielle is dishonest and that her reputation in the community is that of a pathological liar, among other things."
Jacqueline will attest to the same opinions -- that Danielle is "dishonest and that she has a reputation in the community for rampant dishonesty."
Article continues below advertisement
Other planned witnesses for the plaintiff include Staub's former drug cartel boyfriend Daniel Aguilar, author Charles Kipps of the book Cop Without A Badge (which was featured on the reality show), as well as Staub's former boyfriend Stephen Zalewski (who's filed his own lawsuit against Danielle alleging defamation after she accused him of secretly filming the couple having sex).
Maher's attorneys will also be calling Danielle to testify.