Exclusive
EXCLUSIVE: Michael Lohan's Ex Fiance Threatens Lawsuit Over Naked Photos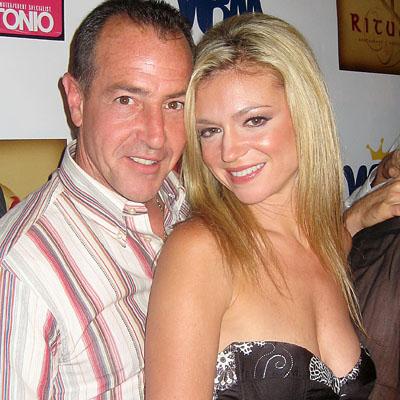 Michael Lohan's ex-fiance Erin Muller has fired off cease and desist letters to a web site she says posted naked photos of her without her permission, RadarOnline.com has confirmed exclusively.
Read The Documents Here
While Muller's attorney wouldn't comment on who they think sold the pictures, he did tell RadarOnline.com, "We find Mr. Lohan's Twitter posts regarding the naked photographs to be awfully peculiar and we are currently investigating if Mr. Lohan had anything to do with submitting these. I currently cannot say whether he did or did not submit them. We are looking into it."
Article continues below advertisement
The web site The Dirty.com posted five revealing photos of Muller on Monday. In some of them she's naked. In others she's wearing barely-there lingerie.
On September 11, Lohan posted the link to the photos on his Twitter page and wrote, "See what happens when you call and threaten people? Don't play with the bulls."
Lohan spoke exclusively to RadarOnline.com where he adamantly denied any involvement.
"I had nothing to do with that submitting the photos. Look, Erin has a lot of enemies now. Her old boyfriend Joe Clements can't stand her. Now the guy she was just arrested with, Keith Parris, is having a change of heart as well. He left me a Facebook message telling me, 'you can have her.' I told him, "no thank you."
Lohan also explained his Tweets, saying "I was responding to Keith's message to me. What I meant was that if you hang out with Erin, that's the stuff yo can expect to happen."
Article continues below advertisement
EXCLUSIVE: Michael Lohan and Kate Major Moving In Together
And as far as Erin's attorney, Bryan Konoski, Michael laughs, "Bryan needs to stop blaming other people. He has disseminated things to the press that are complete lies and he's going to be facing a major lawsuit very soon if he doesn't stop. The paperwork will all come out."
On Monday, Muller's attorney Bryan Konoski, sent two letters to the web site requesting that the photos be taken down immediately.
In an exclusive statement to RadarOnline.com, Konoski said, "Ms. Muller has had enough of this nonsense. At this point in time, the decision has been made that any party that illegally publishes or sells photographs of Ms. Muller, or makes any comments that amount to slander or defamation, will be prosecuted in a civil lawsuit. Our first target is The Dirty.com and whoever provided the photographs to the web site. If the photographs are not removed promptly, we expect to file a multi-million dollar lawsuit against the company and whoever provided the pictures."