Exclusive
EXCLUSIVE: Man Claims Hit TV Show Modern Family Was His Idea - Files Lawsuit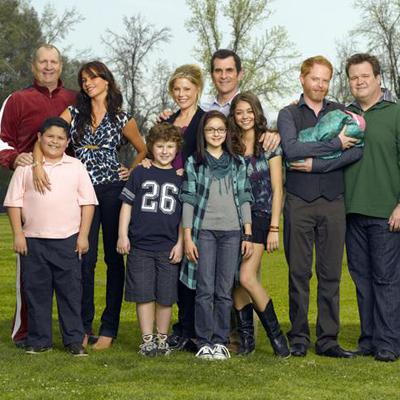 The Emmy Award winning hit television show Modern Family premieres its second season on ABC this Wednesday, but RadarOnline.com has learned they have been hit with a copyright infringement lawsuit that may jeopardize the future of the show.
DOCUMENTS: See The Complaint Filed Against 'Modern Family'
Martin Alexander filed a complaint with the District Court in New York on July 23, 2010 citing that the defendants had "illegally copied from and/or created" Modern Family based upon Alexander's "copyrighted work."
Article continues below advertisement
EXCLUSIVE DOCUMENT: Read The Lawsuit
Alexander is seeking the maximum statutory damages to the tune of $30,000 per infringement and $150,000 per willful infringement, as well as a fifty percent "interest in the exclusive copyright."
VIDEO: Emmy Highlights - Modern Family & Mad Men Among Big Winners
According to the complaint, Alexander created and copyrighted a sitcom entitled Loony Ben, which bears a striking similarity to Modern Family.
"Mr. Alexander began circulating his work throughout Hollywood and Los Angeles, California and in New York, submitting it to agents, producers, directors, production companies, networks, network executives, and contests," the documents state.
Alexander claims the defendants then used his copyrighted work to begin "selling and placing upon the market a television program copied largely" from his original Loony Ben concept.
Article continues below advertisement
Interestingly, Alexander filed a Proposed Cast List with the United States Copyright Office in 2006 that "includes obscure actress Sofia Vergara as the stunningly beautiful, fiery, temperamental, Latina mother, with a thick accent, who's in love with a Caucasian man and always makes him do the right thing, especially where her son is concerned," much like the role Vergara plays on the hit show.
During her 2010 Emmy nomination speech Vergara said, "I just have to thank the writers. With this accent, it's very hard to find roles. To have been able to find a role so perfect for a person like me with my ethnicity, with the way I look, it's unbelievable."
Alexander claims in his lawsuit that "the reason the role is perfect for Ms. Vergara is that the Plaintiff created the role for her."
The concept Alexander copyrighted also calls for actor Ben Stiller in the lead role of a "tall, dark haired, sexually ambiguous, middle aged, Jewish, 'cool' dad who acts childlike and wants his kids to think he's cool" - much like the character Ty Burrell plays on Modern Family.
Article continues below advertisement
Among other similarities listed, Alexander claims his concept for Loony Ben included:
focus on a non-traditional family
a relationship between two gay men who are married
one gay male is heavyset, the other is height-weight proportional
a heterosexual couple consisting of a Caucasian male and a Latino female with an age disparity
a lawyer who graduated from Columbia Law School
an Asian female with Caucasian parents
a minor child who is a Latino male with a Caucasian father
a character from Cleveland, Ohio
an outsider, a non-family member to whom the lead character bears his soul
EXCLUSIVE VIDEO INTERVIEWS: Modern Family Cast Dishes About On Screen Chemistry
The defendants were given a deadline of August 13 to respond to the lawsuit, but it was extended until September 21 in an effort to "avoid piecemeal litigation and promote judicial efficiency."
Defendants listed on the claim include CBS Broadcasting, Disney Enterprises, Fox Entertainment Group, Blockbuster, Amazon.com, IMDB.com, Keith Murdoch, ABC, Apple, Hulu, Steven Levitan, Christopher Lloyd and Picture Day Productions.