EXCLUSIVE: Lohan's Film Project On Track Despite Failed Test, Director Says 'We Can Still Insure Lindsay'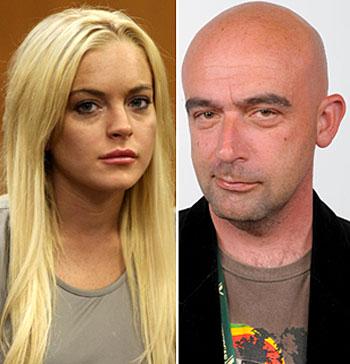 Inferno director Matthew Wilder and his producers are hoping the judge overseeing Lindsay Lohan's fate will allow troubled actress to leave California after she failed her latest drugs test, RadarOnline.com can reveal.
Lohan will face Judge Elden Fox later this week and faces an automatic 30 days in jail plus the risk that he could prohibit her from going-out of state too.
Inferno is set to film in Louisiana in November and Lohan is in almost every scene which could effectively torpedo the whole project about ill fated porn star Linda Lovelace.
Article continues below advertisement
Director Matthew Wilder told RadarOnlin.com, in an exclusive interview: "We understand that the judge is all powerful and obviously we hope that his decision will be favorable for us and Lindsay Lohan.
"For tax and finance reasons we want to film in Louisiana and that is still our main aim although we could switch to Los Angeles but that would increase costs.
"We have discussed the situation and we understand that we can still get Lindsay insured for the movie but we have no 'plan B' in place until we find-out what the judge's decision will be.
"Our thoughts are with Lindsay and we are all hoping that she can get over this setback and can still complete Inferno with us but not everything is in our hands now."
It's understood that Lohan and her lawyer Shawn Chapman Holley will suggest that she should have a sober monitor if she is allowed to go out of state to work.
Since the news broke on Friday, the actress has been contrite about her 'dirty test' and has attended an Alcoholic Anonymous meeting in an attempt to show that she is trying to rehabilitate herself.
Article continues below advertisement
Judge Fox cannot force the actress back to rehab for the failed test although many experts are saying this is what she really needs if she is serious about getting clean.
But if she is allowed to film Inferno in Louisiana, then Wilder and his team will also be keeping a close eye on their high-risk starlet.
He added: "A part of the insurance stipulations we would require to have people watching Lindsay Lohan to make sure that everything goes smoothly.
"A lot of people are working hard behind the scenes to make this happen but we will all have to wait and see what the judge rules.
"However, we are still backing Lindsay Lohan to do this movie despite what has happened."
RadarOnline.com understands that even if Lohan is given the automatic 30 day sentence for her failed test under her probation agreement she is unlikely to serve the full sentence because she is a 'low-risk' offender and the prisons in Los Angeles currently have high inmate rates.