Exclusive
EXCLUSIVE: Jennifer Aniston & John Mayer's Atlanta Hook-Up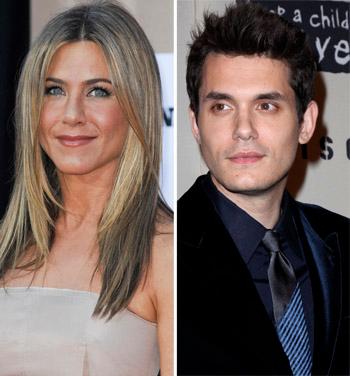 Jennifer Aniston is in Atlanta shooting her next movie Wanderlust and RadarOnline.com has learned that she wandered right on over to Aaron's Amphitheatre in nearby Lakewood, Georgia Wednesday night to catch John Mayer's show.
Jen was in work-out clothes and had a baseball cap pulled low over her face when she visited with John backstage after his performance, a source tells RadarOnline.com. "She looked gorgeous and seemed to be really enjoying herself. She and John laughed a lot."
Article continues below advertisement
Afterward, Jen and John and several people connected with his tour all went back to her hotel, The Ritz-Carlton, where he rented a private suite for an impromptu party.
John moved on to his next tour stop, Tampa, Florida, the next day. Jen is in Atlanta for several more weeks filming Wanderlust with Paul Rudd.
Before heading south, Aniston was spotted out on dates in L.A. with Cougar Town costar Josh Hopkins (Jen is making an appearance on her friend Courteney Cox's sitcom) and with the much younger restaurant owner Harry Morton, who once dated Lindsay Lohan.
But sightings of Aniston and Mayer -- despite their best efforts to keep them on the down low -- continue to surface. Mayer even took another website to task last month for reporting that he and Aniston has been seen together but he didn't deny that they had been.
Could the third time be the charm for this pair? We'll be watching.
RELATED STORIES:
VIDEO: Angelina Jolie Says She Doesn't 'Have A Lot Of Friends'