Exclusive
EXCLUSIVE INTERVIEW: Zsa Zsa's Husband Changing His Last Name To Gabor!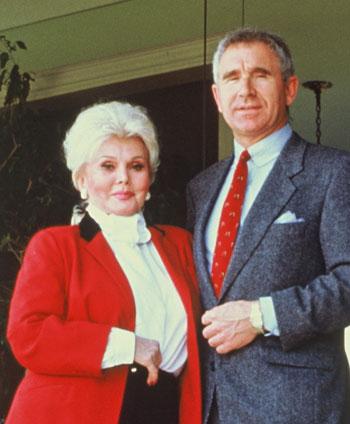 Prince Frederic von Anhalt may soon be known as Prince Frederic Gabor as the Hollywood icon's husband is making plans to legally change his surname to that of his famous wife.
In an exclusive interview with RadarOnline.com, Prince Frederic says Zsa Zsa is the last of the Gabor lineage and he wants to do what he can keep the namesake alive and honor his wife.
"Zsa Zsa's only child, Francesca took the Hilton name and when Zsa Zsa moves on, the name will no longer be.
Article continues below advertisement
"I love my wife and I want to show my appreciation and the best way to do that is to take her name."
Prince Frederic consulted with his attorney this past Saturday to inquire about getting the process underway and we're told the paperworkis in the works.
"It's a formal process. Paperwork must be submitted to the court, a court date is set and the judge has to sign off on it," says Prince Frederic's attorney. "It's not something that is going to happen overnight."
Gabor, often described as the "original Paris Hilton," enjoyed the fame and notoriety born out of her taste for excess -- and husbands, as she was married nine times, the last to husband Prince Frederic in 1986.
She was also married to Hilton family patriarch Conrad from 1942-1946.
Her late sisters, Eva and Magda, were also prominent queens of high society.
Zsa Zsa's daughter, Francesca Hilton is not shocked by the news of Prince Frederic's latest plyth in the name of all things Gabor.
Article continues below advertisement
Edward Lozzi, spokesperson for Ms. Hilton issued the following statement exclusively to RadarOnline.com on her behalf:
"Ms. Hilton is not surprised by anything Mr. von Anhalt does anymore. If he has the legal right to change his name to Gabor or not, that is irrelevant. However, Mr. von Anhalt is incorrect when he states that Zsa Zsa is the last of the Gabor lineage and Francesca took the Hilton name. In fact, Zsa Zsa Gabor's birthed daughter's full legal name is Constance Francesca Gabor Hilton. Ms. Hilton, the blood heir and legal daughter of Conrad Hilton and Zsa Zsa Gabor, did not 'take' the Hilton name as von Anhalt incorrectly states. It was given to her at birth. Most importantly, Ms. Hilton legally added the Gabor surname to her official name over 15 years ago with the full knowledge and consent of her mother. This of course makes more sense than anything Mr. von Anhalt is about to cook-up."
Sadly, Gabor's health took a turn for the worse this summer, after she broke her hip at her Bel Air home July 17.
Her condition gravely deteriorated after a procedure to remove blood clots in her upper body at UCLA Medical Center last month.
Although she has been in and out of the hospital since her procedure, Zsa Zsa has slowly been showing signs of improvement and is currently recovering at home.
RELATED STORIES: