Exclusive
EXCLUSIVE FIRST PHOTOS: Orlando Bloom Suits Up For The Three Musketeers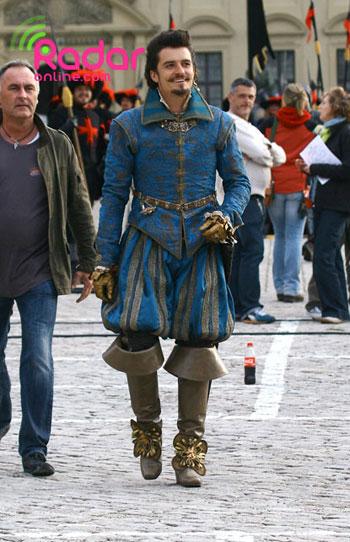 Orlando Bloom was a swashbuckling hero in Pirates of the Caribbean, but in the upcoming The Three Musketeers film he plays a villain, and only RadarOnline.com has the first photos of the dashing star getting into character on the film's European set.
Bloom sported a considerable pompadour, mustache and beard as he strutted across the set in his gilded gold and blue costume with tall, heeled boots and cape.
Article continues below advertisement
The actor seemed like he was in a great mood, smiling and waving at passersby.
In the film, Bloom plays the Duke of Buckingham, the arch-nemesis of the Musketeers. He is joined by Oscar winner Christoph Waltz as Cardinal Richelieu, Logan Lerman as D'Artagnan, Matthew MacFadyen as Athos, Ray Stevenson as Porthos, Luke Evans as Aramis, and Milla Jovovich as M'lady De Winter.
Bloom also has another new role on the horizon: dad. He and wife Miranda Kerr are expecting their first child.