EXCLUSIVE AUDIO: Zsa Zsa Gabor 'In Pain' -- Hear Her Husband's Call To 911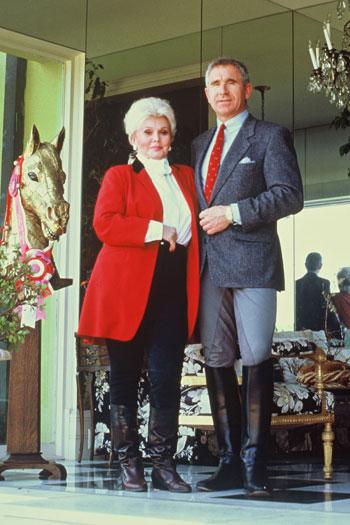 Zsa Zsa Gabor's husband Frédéric Prinz von Anhalt said his wife was "in pain" while talking to emergency operators late last month, and RadarOnline.com has just obtained the audio from the 911 call.
Here the audio on RadarOnline.com
The call was placed at 10:42 am August 31, and paramedics were then dispatched to the couple's Bel Air mansion, where they transported the 93-year-old socialite to UCLA Ronald Reagan Medical Center in Los Angeles.
Article continues below advertisement
The day after the call was placed, the actress was released from the medical facility; her husband gave us plenty of details about her condition upon her recent release.
"Zsa was released from the hospital yesterday and is now at home," he told us exclusively September 2. "She is in a great deal of pain and is being medicated to control it. There are physical therapists that come to the house daily to help her regain her strength, but she is in a great deal of pain anytime someone touches her and immediately asks them to stop. She is still not eating solid food and is getting her nutrition through a tube."
As RadarOnline.com previously reported, Gabor's health took a turn for the worse this summer, after she broke her hip at her Bel Air home July 17.
Her condition gravely deteriorated after a procedure to remove blood clots in her upper body at Ronald Reagan UCLA Medical Center last month, prior to her re-admittance to the hospital.
Gabor, often described as the 'original Paris Hilton,' enjoyed the fame and notoriety borne out of her taste for excess and for husbands. She was married nine times, the last to von Anhalt back in 1986.
Article continues below advertisement
Zsa Zsa Found Unresponsive, Says Husband
Synonymous with her catchphrase "dahlink," Gabor was at the center of one of biggest entertainment stories of the 80s in June 1989, when she slapped a police officer in Beverly Hills and was subsequently arrested and held in custody for three days on charges of driving on an expired license and battery. She was also fined $13,000 in court costs in connection with the incident. Showing her sense of humor about the affair, Gabor would parody the well-publicized run-in in films such as Naked Gun 2 and The Beverly Hillbillies.