Exclusive
EXCLUSIVE: A Second Rihanna Music Video Leaked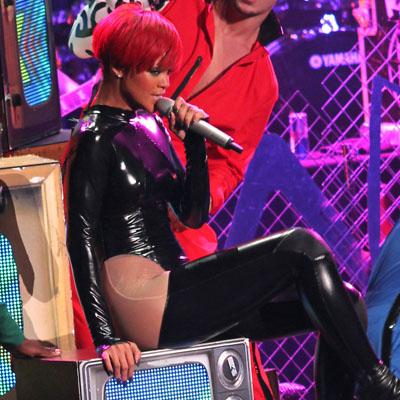 A second "dirty" version of a not-yet-released Rihanna music video has leaked, RadarOnline.com has exclusively learned.
Just days after a music video of Who's That Chick circulated online, a different version of the video has somehow made it's way out of the studio and singer's hands.
"This is totally different than the version that leaked first," said a source who has watched the clip.
"The initial version that got leaked was a 'bubble gum' clip, like the average pop video, but this is another video. It's dirty - dark, steamy and gothic - and it has yet to come out."
Article continues below advertisement
A day after the video was released, Rihanna confirmed on her Twitter account that Who's that Chick was an online music video/commercial she shot for Doritos.
"I don't want you to get confused... Doritos is in no way connected to LOUD," Rihanna wrote, making it clear that her endorsements are separate from her new album.
The singer's record company SRP Records also took to Twitter over the weekend to vent about the unofficial release.
However, it appears there are multiple versions of the video.
It has been reported that the clip, produced by French DJ David Guetta, is supposed to be released as a promotional club single later this year.
It's unclear if the track will make it onto the diva's highly anticipated new album, due to hit shelves November 16.
Neither Def Jam nor SRP Records were available for comment.
RELATED STORIES: