COURT: Judge Modifies Visitation For Sisters Of Slain Monica Beresford-Redman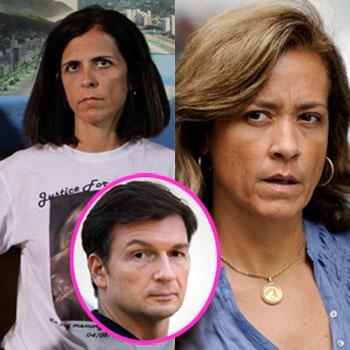 The sisters of murder victim Monica Beresford-Redman were ordered monitored visitation with their slain sister's children, RadarOnline.com has learned.
From a Los Angeles on Friday morning, Judge Mitchell Beckloff made order for Jeane and Carla Burgos but wanted to make it clear that he didn't do it because he believed claims made by Bruce's camp that they were saying anything negative to the children during their visits.
Article continues below advertisement
But with an upcoming custody trial set for November, the judge thought it would be best to have another set of eyes and ears with the sisters and the children during their visits.
EXCLUSIVE VIDEO: Survivor Producer Faces Off In Court Against Slain Wife's Family
The sisters didn't object to the order and, in fact, welcomed the opportunity to prove that they never say anything disparaging about Bruce, or Monica's murder.
The judge asked that the sisters, as well as Bruce's parents – who are the temporary guardians to the children – meet with one another and come up with a suitable monitor who would be cost free.
As RadarOnline.com has previously reported, Monica's sisters had filed declarations in court opposing a motion by Bruce's parents, Juanita and David, for modified visitation with their niece and nephew.
Article continues below advertisement
Under the previous order, Jeane and Carla had visitation with the children every Tuesday and Sunday for a total of 15 hours. However, the grandparents requested for more limited visits, including every Saturday and every other weekend.
On Friday, the grandparents request was denied by the judge. Aside from the addition of a monitor, the visitation will remain the same.
EXCLUSIVE: Bruce Beresford-Redman's Mexico Attorney Brings In Three Criminal Experts
Monica's body was discovered in a hotel sewer in Cancun, Mexico on April 8; there's currently a warrant out for the arrest of her husband, Bruce Beresford-Redman, in Mexico.