Tony Curtis Dead At 85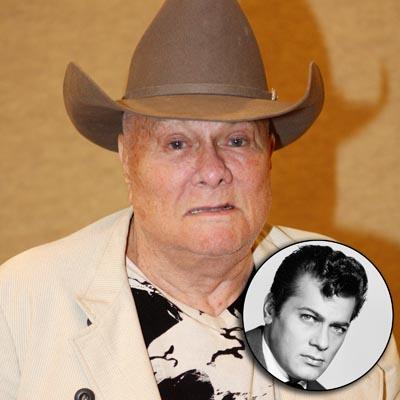 Legendary Hollywood actor Tony Curtis has died at 85, RadarOnline.com has learned.
The iconic Curtis -- born Bernard Schwartz to poor Jewish immigrants in the Bronx -- died Wednesday night of cardiac arrest at his Henderson, Nevada home, according to Clark County Coroner Mike Murphy.
Curtis, the father of actress Jaime Lee Curtis, carved out his legacy as a silver screen beefcake in more than 140 films, playing roles as diverse as escape artist Harry Houdini, a noble slave in Spartacus and a hustling Naval officer in Operation Petticoat.
Article continues below advertisement
In 1958, Curtis teamed up with Sidney Poitier in the classic film, The Defiant Ones, in which they played a pair of escaped convicts. Borth stars received Best Actor Academy Award nominations for their efforts.
Despite his successes, the free-spirited actor never seem to put much stock into the Oscar glitz, telling The Washington Post in a 2002 interview that Academy Awards have "nothing to do with good performances or bad performances.
"After the number of movies I made where I thought there should be some acknowledgment, there was nothing from the Academy. My happiness and privilege is that my audience around the world is supportive of me," he said. "So I don't need the Academy."
Perhaps Curtis' biggest hit was the classic screwball comedy, Some Like it Hot, the following year in 1959, co-starring Jack Lemmon and Marilyn Monroe.
The now-defunct Saturday Review once called Curtis "a rare phenomenon, an authentic screen personality who, through hard work, has made himself into an actor of considerable subtlety and some breadth."
Article continues below advertisement
He was a noted Hollywood Lothario, bedding starlets such as Monroe and Natalie Wood. Curtis was married six times, first to Psycho actress Janet Leigh, mother of Jamie Lee Curtis, the only one of his six children to enter show business.
In addition to acting, Curtis loved to paint, and he credited his art with helping him through a period of addiction to alcohol and cocaine in the 1970s.
He said in a 1985 interview that his addictions were "a textbook case."
The actor said his "life had become unmanageable because of booze and dope" and even his acting career "became a strain and a struggle.
"Because I didn't want to face the challenge, I simply made myself unavailable," Curtis said.
Actress Gloria Stewart Dies At 100
In recent years, the actor had funneled his efforts toward operating a refuge for wayward horses, the Shiloh Horse Rescue and Sanctuary, which he ran with his wife on the California-Nevada border.
Article continues below advertisement
Curtis' health had taken a turn for the worse in recent times, as he was hospitalized in Las Vegas this summer after suffering breathing problems. He'd fallen into a coma in late-2006 after he contacted a severe case of pneumonia.
"My father leaves behind a legacy of great performances in movies and in his paintings and assemblages," actress Jamie Lee Curtis said in a statement. "He leaves behind children and their families who loved him and respected him and a wife and in-laws who were devoted to him. He also leaves behind fans all over the world. He will be greatly missed."
Watch video of Tony Curtis on What's My Line below.