VIDEO: Vince Vaughn Takes His Mom Skydiving Over Chicago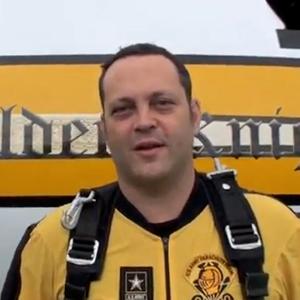 For the second time in less than a year, Vince Vaughn has taken the plunge - only this time, he did it literally!
The Chicago native was back home in the Windy City over the weekend, and instead of taking his mom Shea Vaughn to lunch, he took her skydiving!
The Wedding Crashers star took nearly 13,000 feet to the sky alongside members of the Army's Golden Knights.
Watch the video on RadarOnline.com
"My mom is incredible!" Vince said. "I'm excited. I'm glad to have this opportunity and feel like we're in great hands."
Article continues below advertisement
Vince and Shea took the plunge over Lake Michigan and upon landing safely on the beach, he ran over to give his mom a hug.
"Thumbs up all the way!" Shea exclaimed to the camera. Sources tell RadarOnline.com she had no problem jumping out of the airplane because she's in excellent shape from doing her celebrity-favorite workout SheaNetics.
With their feet firmly planted on the ground, Vince took his mom on a private chartered boat cruise that night along Lake Michigan with his new wife, Kyla Weber.
Seven months after marrying Kyla in his Chicago home, it was announced that Vince was Hollywood's newest daddy-to-be, as the happy couple are expecting their first child together.
RELATED LINKS: