Hollywood's Newest Daddy-To-Be: Vince Vaughn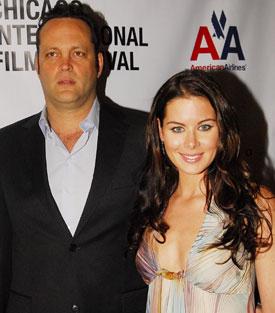 Get those cigars ready.
Silver screen hunk Vince Vaughn is expecting his first child with wife Kyla Weber, RadarOnline.com has learned.
The 40-year-old star wed Weber, a stunning Canadian realtor, in a hush-hush affair January 2 at his Chicago home.
The tall leading man was previously in a high-profile romance to A-lister Jennifer Aniston. With a slew of hit comedies under his belt such as Swingers, Wedding Crashers and Couples Retreat, Vaughn's next big role is in the Ron Howard-directed Cheaters, which hits theaters next year.
Article continues below advertisement